Japan imposes new Iran sanctions over nuclear programme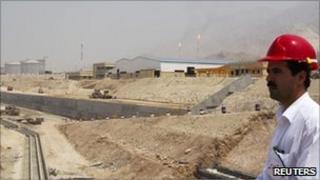 Japan has imposed new sanctions on Iran over its nuclear programme.
The measures - which go beyond than those imposed by the UN Security Council - ban transactions with some Iranian banks, and also target energy-related investments.
Japan approved sanctions against Iran last month, but US officials have been urging Tokyo to adopt tougher measures.
Many states fear Iran's nuclear programme is developing atomic weapons; Iran insists its programme is peaceful.
Japan is a major importer of Iranian crude oil, but did not impose any restrictions on oil imports from Iran.
"We took those steps as they are necessary to push for nuclear non-proliferation and prevent its nuclear development," Chief Cabinet Secretary Yoshito Sengoku told a news conference.
"We have traditionally close relations with Iran and from that standpoint, we will patiently encourage the country towards a peaceful and diplomatic solution," he added.
The United States, the European Union, Canada and Australia have also announced additional sanctions, which have been opposed by Russia and China.
China is now Iran's closest trading partner, with major energy interests in the country.
Banks affected
Japan's new sanctions include a freeze on the assets of scores of groups and individuals linked to the country's nuclear programme.
They ban the provision of insurance or reinsurance services to Iran and bar Japanese financial institutions from buying bonds issued by Iran's central bank.
The new ban on financial activity with 15 designated Iranian banks that could contribute to nuclear activities could affect some Japanese banks, analysts said.
Toyota Motor Corp has suspended motor vehicle exports to the country indefinitely since June.
The US imposed unilateral sanctions on 1 July that go further than the fourth round of UN sanctions against Iran approved by the Security Council in June.
Major banks in Japan and Germany, oil companies in India and companies elsewhere have been scrutinising the law to determine the impact it will have on their business.
The EU has now also introduced similar tough unilateral measures.
China's business ties with Iran are also a source of concern to the US because Beijing may try to fill the vacuum left behind by companies that pull out from Iran.