Chinese warships end first Burma visit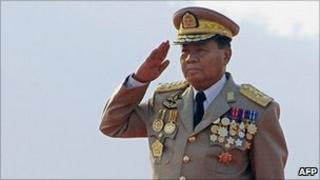 Two Chinese warships have completed a first ever trip to Burma.
The five-day visit, by two ships in China's anti-piracy taskforce, highlighted China's growing naval reach and its close ties with Rangoon.
China also says it will receive a visit next week from the head of Burma's military government, Than Shwe.
He is to meet the Chinese Prime Minister, Wen Jiabao, during a four-day trip which will take him to Beijing, Shanghai and Shenzhen.
The announcement highlights the growing relationship between China and its southern neighbour, which is shunned by Western countries and viewed with suspicion by many Asian governments.
General Than Shwe has also visited India in recent weeks.
A Chinese foreign ministry spokeswoman Jiang Yu said the general's visit would take place between 7-11 September.
Ms Jiang said she believed Than Shwe's visit would contribute to the consolidation of the traditional friendship between the two nations and promote regional peace and development.
Asked about Burma's election scheduled for 7 November, the spokeswoman said: "China hopes to see the election proceed smoothly and the continuous realisation of democracy and development in Myanmar (Burma)."
'Allied state'
The Guangzhou and Caogu warships enjoyed a ceremonial welcome and various visits while docked at Rangoon's Thilawa Port.
The People's Liberation Army Navy has been participating in international anti-piracy efforts in the Gulf of Aden and have used the experience to extend its warships' schedule of port visits.
These ships had already visited Italy, Greece and Egypt on their way home to China.
The Burma visit was a first and "signifies that China sees Burma as an allied state," Professor Nick Thomas, at Hong Kong's City University told the BBC.
"It shouldn't be seen in isolation - it is also looking ahead to the elections when (Burma) is undergoing a lot of international attention and China is reiterating its support for (Burma)," the expert on East Asian international affairs said.