Security chief replaced after Tajik jail break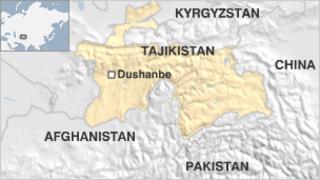 Tajikistan's security chief has been replaced following the escape of 25 prisoners, including several Islamic militants, from a Dushanbe jail.
Khairidin Abdurakhimov was replaced by Saimumin Yatimov as head of the State Committee for National Security, the presidential press service said.
Mr Abdurakhimov had held the position for 11 years.
The fugitives, who killed five guards as they escaped, remain on the run.
The group, which includes Afghan and Russian citizens, seized guns and killed prison personnel in a fire-fight before escaping on 23 August.
Other senior security officials are also said to have been removed from their posts in the wake of the escape.
Reuters news agency reports that those who escaped were among 46 people jailed in August on charges of planning to overthrow the government.
Tajikistan, which borders Afghanistan, had a five-year civil war between the Moscow-backed government and Islamist-led opposition. The war ended in 1997.