Is North Korea's Kim poised to name his successor?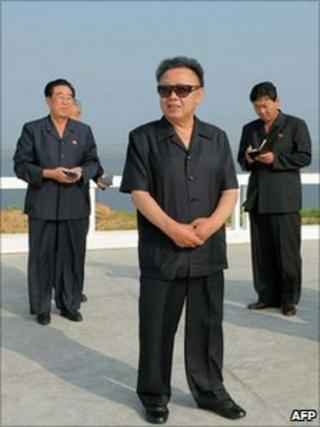 Representatives are gathering for the first North Korean Workers Party delegates conference in more than 44 years.
News reports suggested that traffic into and out of Pyongyang was already being restricted several weeks before the event, a customary precaution ahead of important events.
And large numbers of soldiers, armoured vehicles and artillery have been spotted massing close to the capital, perhaps in readiness for a parade fit for such an occasion.
Clearly something is going on.
But could it, as some people suggest, be the "big one" - the moment when power in this rigid, totalitarian state begins to change hands for only the second time in its history?
Like twitchers on the trail of a rare bird, the pundits and commentators who spend their lives trying to decipher North Korea's murky politics are engaged in frenzied speculation that something extraordinary might be in the air.
'Smooth transition'
That Kim Jong-il is sick is no secret, at least outside of North Korea.
He is widely accepted to have suffered a stroke in August 2008, the effects of which have been clearly visible in his public appearances since.
Frail and grey-faced, the pot-belly is gone, he now walks with a limp, and his hair is noticeably thinner.
Confronted with his own mortality, it seems plausible that this son of the god-king and founder of North Korea, Kim Il-sung, is thinking about keeping it in the family once again.
Over the past year or so a consensus has been emerging among North Korean watchers that the chosen third-generation heir and successor is Kim Jong-il's youngest son, and complete political novice, Kim Jong-un.
The trouble is there has been little hard evidence for this view, only a few cryptic references in North Korean newspapers that could arguably refer to Kim junior, but certainly no official mention of him by name.
All eyes have now turned to the Workers Party and its upcoming conference which might be about to end the guessing game once and for all.
After all, it has done so once before.
Kim Jong-il was seen to have been officially anointed as successor to his father when he was elevated to a senior party position at a congress held in 1980.
"If Kim Jong-un is elected to a party position at this conference then it means he is the successor," said Choi Jin-wook, a researcher at the Korea Institute for National Unification.
"The aim is the smooth transition of power and the party is needed to legitimise the process."
But there would be dangers with such a plan.
Kim Jong-il may soon be too ill to rule effectively, but his son may be viewed by many as too young.
In such a scenario other members of the elite will almost certainly be jockeying for position.
So the party conference will be watched closely to see the rising and falling fortunes of certain high-ranking North Korean officials.
Key figures
At the best of times North Korean politics can look a little bit like a game of retirement home musical chairs with a dangerous twist.
The ageing officials compete for positions, fall in and out of favour, and occasionally get shuffled off never to be seen again.
But recently there has been a flurry of changes connected, some observers believe, with the succession.
In particular, Kim Jong-il's brother-in-law, Jang Song-thaek, appears to be very much back in vogue after a few years in the wilderness, having now been given one of the vice-chairmen positions on the country's powerful National Defence Commission.
Many observers suggest he will play a trusted role as regent, guiding the young Kim Jong-un as he consolidates his power base, and may be given another powerful party position at the upcoming meeting.
Two other NDC vice chairmen, O Kuk-ryol and Kim Yong-chun, a key Workers Party official and defence minister respectively, are also tipped as men to watch.
Mr O, once said to be in charge of North Korea's highly sophisticated efforts to forge fake $100 bills, is now reported to be advising Kim Jong-un on operations against South Korea.
Ri Je-gang, a first deputy director of the Workers Party Organisation and Guidance Department, was another official said to be tasked with ensuring that the succession goes smoothly.
But, thought to be a long-time rival of Jang Song-thaek, Mr Ri died in a car accident late at night while driving home from a concert in June.
Many observers have raised the possibility of foul play and suggest that the case highlights the potential for power struggles and bloodletting during the uncertainties of the succession period.
The party conference will be a chance for Kim Jong-il to balance the interests of these various individuals and keep them in check.
There are even some reports that the handover of power is already fairly advanced with all communications with the leader now passing through the hands of Kim Jong-un.
But Brian Myers, a North Korea propaganda expert based at South Korea's Dongseo University, urges caution, given that much of the speculation about the goings on inside North Korea is based on sources outside the country, often North Korean defectors.
"The chances of your average North Korean defector knowing that are the same odds as an English teacher in a bar in Itaewon [in central Seoul] knowing what Obama said to his cabinet last week," he said.
Not until Kim Jong-un is officially appointed to a senior party position, and his name appears in black and white in a North Korean newspaper, will we be able to say with any certainty that the succession has begun.