Vaccine hope Tasmanian Devil dies from cancer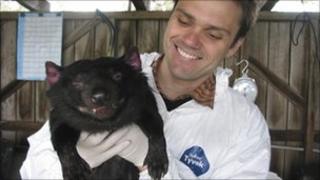 A Tasmanian Devil who scientists hoped was immune to a facial cancer that threatens his species has been euthanised after developing tumours.
The marsupial, named Cedric, was believed to have a natural immunity to the disease that he could pass on to future generations.
But two weeks ago researchers found untreatable tumours.
His death is a blow to scientists, who say Tasmanian Devils could be extinct in the wild within 20 years.
Animals with the facial cancer become so consumed by the disease they can no longer eat or see, and eventually die of starvation.
'Difficult task'
Cedric was the first Tasmanian Devil to show signs of immunity to the disfiguring disease, which has wiped out half the devil population in Tasmania.
He and his half-brother Clinky - who both came from a health devil population - were injected with facial cancer cells in 2007.
Clinky developed the cancer, but Cedric did not - sparking hopes that he had an immunity that could help scientists develop a vaccine.
In late 2008 he developed two small facial tumours, which were successfully removed.
But two weeks ago more tumours were found which experts decided could not be treated.
"We had to decide to euthanise him before he deteriorated," said Dr Alex Kreiss of the Menzies Research Institute in Hobart. "It was a really hard decision."
He said Cedric had played an important role in helping scientists understand more about the disease.
"While this death is sad news, it is only one part of the puzzle toward developing a vaccine against DFTD (Devil Facial Tumour Disease)," he said.
"This was always going to be a long and difficult task, but the information that Cedric supplied has provided clues for alternative immunisation strategies."
Tasmanian Devils are indigenous to the island of Tasmania. It is believed they were named devils by early European colonists because of their loud screeches.