Australian PM Gillard secures support from Greens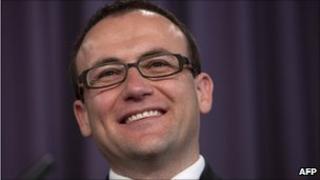 Australia's caretaker Prime Minister Julia Gillard has won the support of the Green party in her bid to form the next government.
But the backing of the party's one MP still does not give her an overall majority in the lower house of the Australian parliament.
All eyes are on the four independent MPs who hold the balance of power.
They have been negotiating with both sides and receiving briefings from government bureaucrats.
No decision
With Australia's political deadlock midway through its second week, Ms Gillard has sought to strengthen her chances of remaining as the country's prime minister by agreeing to a pact with the Greens.
During last month's election, the party achieved its strongest ever showing and managed to secure its first ever MP in the lower house of parliament.
But 76 seats are needed to form a government, and, even with the support of the Greens, Ms Gillard's Labor party only has 73.
That is the same number held by the conservative opposition, led by Tony Abbott, who now prefers to call his MPs the "government in waiting".
But the choice of who becomes prime minister still rests with a small handful of independent MPs, mainly from rural constituencies .
There are four of them in total and three have been working in concert.
Dubbed the "three amigos", they have spent the past few days receiving briefings from Canberra bureaucrats on key policy areas like the budget and the environment,
The independents are certainly living up to their name.
Despite all talking about the need for political reform and a better deal for the Australian bush and outback, they have given no outward indication of who they will support, and indicated they might not even decide until early next week.