Ichiro Ozawa confirms Japan leadership bid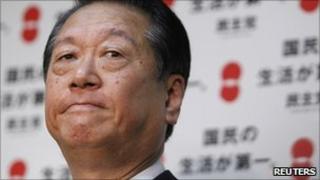 Japanese lawmaker Ichiro Ozawa has confirmed he will challenge Prime Minister Naoto Kan for the ruling party leadership, despite talks aimed at avoiding a potentially damaging split.
The two men will compete in a party presidential election to be held on 14 September.
Mr Kan, who leads the Democratic Party of Japan, only took office in June.
If he is ousted, Mr Ozawa will become Japan's sixth prime minister in four years.
According to opinion polls, most voters would prefer Mr Kan to remain as prime minister.
But Mr Ozawa - a former DPJ leader who stepped down due to a funding scandal - leads a large faction of lawmakers and is widely regarded as a key power-broker.
Under the Japanese system, whoever heads the ruling party will become the prime minister.
'Careful thought'
On Tuesday Mr Kan and Mr Ozawa held talks aimed at avoiding a potentially destabilising leadership challenge.
But Mr Ozawa said he would go ahead.
"I have made a decision after a careful thought after many people encouraged me to go for it. With the backing from my colleagues, I plan to run for the (party) elections squarely and fairly," he said.
Mr Ozawa's challenge follows a poor performance by the DPJ in upper house polls in July.
The DPJ ousted the Liberal Democratic Party after half a century of almost unbroken rule in an election in August 2009.
But the man who led the party to that victory, Yukio Hatoyama, stepped down in June after failing to resolve an ongoing row with the US over military bases on Okinawa.
Mr Kan replaced him but has seen his support ratings fall over the issue of whether or not to raise the consumption (sales) tax.