Burma's Than Shwe 'remains senior general'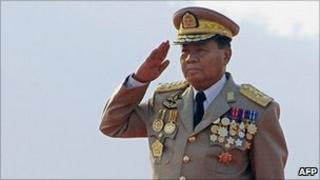 Burma's top leader, Than Shwe, has made an announcement in state media that seems to dispel rumours he stepped down in a military reshuffle four days ago.
A message of congratulations from him to Malaysia's king was carried by all three state-run newspapers.
The item called him "senior general" and named him as Chairman of the State Peace and Development Council.
It appeared to quash suggestions he had stepped down to run as a civilian in the 7 November general election.
Last week's reshuffle saw more than a dozen senior military officers shed their uniforms ahead of Burma's first elections in two decades.
Some reports from media run by exiles said Than Shwe was among those who had given up his rank - presumably in order to retain a role as a civilian in post-election Burma.
But the message - marking Malaysia's independence day - appeared to contradict these reports.
"Senior General Than Shwe, chairman of the State Peace and Development Council, has sent a message of felicitations" to the king of Malaysia, the item said.
Burma's ruling generals say the elections will constitute a key step in the nation's "road-map to democracy".
But critics say they are aimed at further entrenching military rule.
Twenty-five per cent of seats in the new parliament are reserved for the military.
Former military leaders who have stepped down to run as civilians are expected to bolster the junta's presence in parliament.
In April 27 senior officers - including the Prime Minister, Gen Thein Sein - retired from the military.
In the latest reshuffle, number three leader Gen Thura Shwe Mann is said to have stepped down.
The main opposition party - the Aung San Suu Kyi-led National League for Democracy - has been forced to disband ahead of the polls, because of election laws stating that those with criminal convictions cannot be members of political parties.
This would have forced the NLD to expel Ms Suu Kyi and many other pro-democracy leaders who have been jailed for their activism.
Parties that are not aligned with the military have reported harassment while campaigning for the polls.
.