South Korea offers aid to flooded North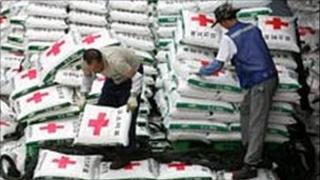 South Korea has made its first offer of aid to North Korea since it accused Pyongyang of sinking one of its warships in March.
South Korea's Red Cross has offered 10bn won ($8.3m, £5.3m) worth of flood aid to its impoverished neighbour.
The offer came hours after the United States imposed new sanctions on the North in response to the sinking.
South Korea blames North Korea for sinking the Cheonan on 26 March with a torpedo, killing 46 crew.
North Korea denies any role in the incident and has demanded its own investigation.
Food aid
North Korea has relied on food aid from China, South Korea and aid agencies to feed millions of its people since a famine in the 1990s resulted in the deaths of hundreds of thousands.
But the communist country has been hard hit by floods caused by heavy rains in July and August, especially in its northern areas, bordering China.
"The aid includes medical kits, emergency food and supplies," a Unification Ministry official said, quoting the Red Cross message sent to North Korea.
The offer has yet to be accepted by the North.
Under President Lee Myung-bak, the South has stepped back from its earlier "sunshine" policy of unconditional aid and has linked the provision of aid to progress from the North on ending its nuclear programme.
A South Korean offer of about 10,000 tonnes of corn to North Korea in October 2009 was the first official aid to its hungry neighbour for almost two years.
The year before, the South had offered 50,000 tons of corn but the North rejected the shipment amid high tensions.
'Too early'
The offer came after North Korea reportedly indicated it was ready to return to six-party talks over ending its nuclear ambitions.
Leader Kim Jong-il told the Chinese president that he wanted to see negotiations resumed during a visit to China last week, Chinese state media said.
The talks - which involve the two Koreas, China, Russia, Japan and the US - have been stalled since December 2008 over Pyongyang's missile and nuclear tests.
But South Korea is demanding an apology for the warship sinking before any return to the negotiations.
Japan also says the time is not right to resume talks.
On Tuesday its foreign minister, Katsuya Okada, told China's visiting nuclear envoy, Wu Dawei, that it was still "too early" to think about a return to talks.
On Monday the US imposed additional sanctions on North Korea, targeting trade in arms, luxury goods and narcotics.