Australia's Gillard rejects new vote, vows stability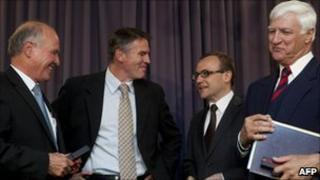 Australia's Prime Minister Julia Gillard has rejected the idea of a new election to avoid a hung parliament.
In her first major speech since elections on 21 August failed to deliver a clear winner, she said she could offer stability.
Four independent members of parliament appear to hold the balance of power amid some talk of holding a new vote.
The count continues, as the margin of victory between the governing Labor and opposition remains too close to call.
Ms Gillard outlined a "new political landscape" in her speech to the National Press Club in Canberra.
Gridlock fear
"Some say this situation is all too difficult and we should just return to the polls. I disagree," she said.
"The Australian people have voted for this parliament and our job is to make it work.
"Because if the new government doesn't find new ways to establish consensus and parliamentary support then we will have gridlock and we will quickly look more like Washington than Westminster," she said.
The prime minister, widely attacked for her putsch against former leader Kevin Rudd which brought her to power a month before the elections, insisted that she "stood ready to form government".
"What is needed more than anything now is continuity. Continuity, certainty and delivery," she said.
Analysts said her comments were geared towards garnering the support of crucial independent members of parliament.
The conservative opposition leader Tony Abbott had earlier claimed the upper hand as counting from the election briefly gave his party more votes and parliamentary seats than Labor, but Labor had edged ahead by Tuesday morning.
Powerful business lobbies, in mining and telecoms, are backing the opposition which has pledged to drop a proposed tax on mining and a government-funded broadband network.
Three of the independents - Tony Windsor, Rob Oakeshott and Bob Katter - have emerged as key figures in the formation of the next government.
They say they have a list of seven demands that they want to discuss before making a decision and of these, the economy is the priority.
They have invited the fourth independent, Andrew Wilkie, to negotiate with them; Greens lawmaker Adam Bandt has offered conditional support to Labor.