Russia and China vow to protect Siberian tigers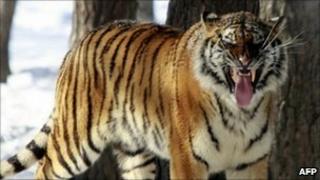 China and Russia have agreed to set up the first cross-border protection zone for rare Siberian tigers.
Only about 500 of the big cats are thought to be left in the wild.
The zone will straddle the border along China's Jilin province and Russia's Primorsky Krai area, where both sides will enforce anti-poaching measures.
Hunting for skins and body parts, to be used in Chinese traditional medicines, is partly responsible for the decline in tiger numbers.
Illegal logging has also shrunk the tigers' natural habitat.
Both countries will also adopt a joint monitoring system to track tiger numbers, and conduct joint ecological surveys.
Roaming
Chinese officials have been working on conservation projects for some time. In the past they linked up protected forests in Jilin province so that the tigers, also called Amur tigers, have a larger area to roam.
They have also tried to protect the animals they feed on, such as deer and wild boar.
It is not all good news for tigers in China though, says the BBC's Michael Bristow in Beijing.
There is still a large demand in China for health products made with tiger parts and while this trade exists, protecting wild tigers will be difficult, our correspondent says.