North Korea 'hopes for early nuclear talks restart'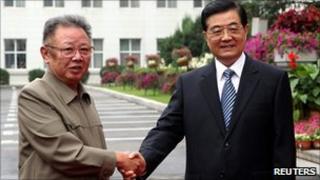 North Korean leader Kim Jong-il has told Beijing he hopes for an early resumption of six party nuclear talks, China's state media reports.
The comments came as confirmation that Mr Kim was in China at the weekend, his second visit to the country this year.
North Korean and Chinese officials traditionally do not confirm Mr Kim's visits until his return to Pyongyang.
There has been no confirmation on speculation that Mr Kim's son and presumed heir accompanied him.
Mr Kim met Chinese President Hu Jintao on Friday in the Jilin provincial capital, Changchun, Xinhua reported.
He told Mr Hu that North Korea was "not willing to see tensions on the [Korean] peninsula" and hoped for an "early resumption" of international talks on Pyongyang's nuclear programme, but gave no further details.
China has been making moves to resume the six-nation talks on disarming the North, after the sinking of a South Korean warship in March inflamed tensions between Pyongyang and Seoul.
An international investigation blamed North Korea for the sinking, but Pyongyang has denied involvement.
Mr Kim, who is believed to be ailing after suffering a stroke two years ago, rarely travels abroad, but last visited China in May.
His son Kim Jong-un, who observers believe is being prepared to take over the leadership, is widely speculated to have accompanied him on his latest visit, but this has not been confirmed.
Correspondents say the trip could have been aimed at securing Beijing's backing for the eventual handover of power.