China air force exercises 'carry message'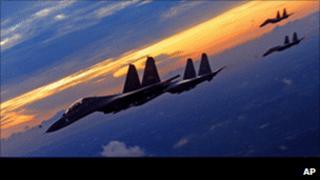 A large airborne military exercise is underway in China's central and eastern provinces and seas.
Fighter jets, spy planes and helicopters, along with 12,000 soldiers, are taking part in the drill.
It is one of several announced in official media in recent weeks.
The exercise follows verbal sparring between the US and China over conflicting territorial claims by China and many South East Asian nations in the South China Sea.
It also comes after China protested against major US-South Korea military exercises last month in the Sea of Japan.
Military message
China's five-day exercise, called Vanguard 2010, is taking place over the central province of Henan and the eastern coastal province of Shandong, which borders the Yellow Sea, China's state news agency Xinhua reported.
The Chinese army-run Military Weekly newspaper said the exercises, though "low-key", carried a message.
"If other people threaten our interests, we have enough military means and technological methods to keep them in check," the newspaper said.
That message follows several weeks of diplomatic jousting over the South China Sea, and over North Korea.
At a meeting of foreign ministers hosted by the Association of South East Asian Nations in Hanoi, Vietnam, in July, US Secretary of State Hillary Clinton said a peaceful resolution of overlapping territorial claims in the South China Sea was a "national interest" of the US.
"The US supports a collaborative diplomatic process by all claimants for resolving the various territorial disputes without coercion," she said. "We oppose the use or threat of force by any claimant."
This runs counter to China's re-stated "indisputable" claim to the entire South China Sea, and its desire to reach bilateral deals with each South East Asian claimant, rather than a multilateral agreement.
Mrs Clinton's comments backed a recent letter from Indonesia to the United Nations which called for a resolution of the region's territorial disputes to be settled according to the Law of the Sea.
China was also angry at US-South Korean military drills in late July which the US described as a show of strength to North Korea.
China, a close ally of Pyongyang, said the exercises - initially planned for the Yellow Sea - were a threat to regional security.