Row over Australia opposition plan to reopen Nauru camp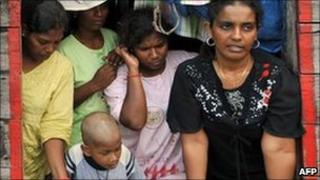 Refugee groups and Australia's governing Labor party have strongly criticised opposition plans to reopen a camp for asylum seekers on the tiny South Pacific island of Nauru.
The opposition says sending illegal immigrants to Nauru would deter others from trying to reach Australia by boat.
The former centre on Nauru operated for six years before it was closed by the incoming Labor administration in 2008.
Immigration is a key issue ahead of a federal election on 21 August.
The Australian-sponsored detention centre was the centrepiece of the previous conservative government's asylum policy.
But it was repeatedly condemned by critics who insisted it was a "brutal part of Australia's dubious history" towards refugees and migrants.
No quick fix
However, opposition politicians, who insist the camp was humane, have held talks with senior Nauruan officials about the possibility of again sending asylum seekers to the remote South Pacific island.
Impoverished Nauru is keen for the facility to be reopened to bring much-needed revenue to the world's smallest independent republic.
The plan has, though, been criticised by refugee groups in Australia and the governing Labor party.
The Foreign Minister, Stephen Smith, says the opposition is misleading voters.
"This is nothing more, nothing less, than a political stunt, an attempt to again trick the Australian public into believing that somehow there's a quick-fix on boat people, human trafficking and asylum seeker issues," he said.
The Labor government is also looking overseas for a way to stop asylum seekers making the perilous sea voyage to Australia.
It believes a new refugee transit centre in East Timor would deter migrants arriving by boat, although parliamentarians in Dili recently rejected the Australian plan.