Emergency ruled ended in six more Thailand provinces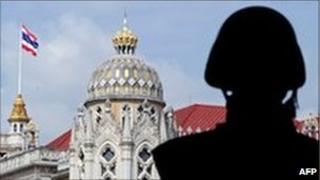 Thai authorities have lifted a state of emergency in six more provinces, more than two months after ending mass protests in Bangkok.
PM Abhisit Vejjajiva said emergency rule would end in Chonburi, Ayutthaya, Nong Bua Lam Phu, Maha Sarakham, Mukdahan and Chaiyaphum provinces.
But the laws will remain in Bangkok and in nine other provinces.
The laws ban public gatherings of more than five and allow police to detain suspects for 30 days without charge.
Emergency rule was introduced during anti-government protests in Bangkok earlier this year which left 90 people dead.
It was lifted in five provinces on 6 July and three others on 20 July, but extended elsewhere for another three months.
Rights groups and foreign diplomats have urged the Thai government to end emergency rule as soon as possible, while critics say authorities are using the laws to clamp down on the protest movement.
But the government has argued it needs the laws in place to prevent further violence.