Vietnam rejects French officer's ashes request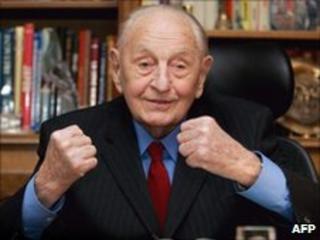 Vietnam has turned down a request to scatter the ashes of a French war veteran at the site of a battle which helped end colonial rule by France.
General Marcel Bigeard, one of France's most decorated soldiers, who died last month, reportedly asked to rejoin his fallen comrades.
But a Vietnamese official is quoted as saying this would "create a precedent".
The refusal is thought to be a reference to American soldiers who might request similar treatment.
Gen Bigeard was a commanding officer during the battle of Dien Bien Phu in 1954, where French troops were surrounded and defeated by the forces of the Vietnamese Communists, the Viet Minh.
'Sensitive and complicated'
Before he died in France last month, aged 94, Gen Bigeard had asked for his ashes to be taken to the battlefield, where they would "rejoin his comrades who fell in battle", an aide said.
But as Herve Morin this week becomes the first French defence minister to visit Vietnam since Dien Bien Phu, the country's foreign and defence ministries have rejected Gen Bigeard's last request.
"We do not wish to create a precedent," an official was quoted as saying by AFP news agency.
"One never knows if one day another former foreign soldier would want to do the same thing elsewhere in the country. That would be sensitive and complicated."
Mr Morin described his trip on Tuesday as "highly symbolic". He said he did not raise the matter of Gen Bigeard's ashes.
Gen Bigeard, who was also a commanding officer during the Battle of Algiers, began his military career as an enlisted man, and retired from the army as State Secretary for Defence in 1976.
The former paratroop regiment commander caused controversy in France in 2000 when he told a newspaper that torture had been a "necessary evil" in Algeria.
He was believed to be one of the most decorated soldiers in France and had received medals from both France and Britain for his wartime service.