Kyrgyzstan receives donor pledges of $1.1bn to rebuild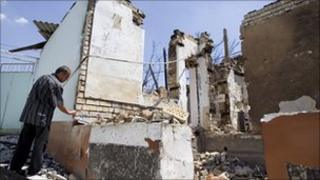 International donors have pledged $1.1bn (£643m) in aid to Kyrgyzstan at a conference in Bishkek.
The money will be used to fund reconstruction in the Central Asian state following deadly ethnic violence in the south last month.
Hundreds of people were killed in the unrest and thousands of homes, mostly belonging to ethnic Uzbeks, destroyed.
Many Uzbeks who fled their homes are still staying with relatives or living in tents in their ruined courtyards.
Officials at the conference in Bishkek said the money would be given over the next 30 months, with $600m to be given this year.
The Kyrgyz government had appealed for the slightly higher amount of $1.2bn.
"Between the state, the private sector and the donor community, I am sure we'll find the required resources," interim President Roza Otunbayeva told the meeting of representatives
The money will be used to restore damaged infrastructure, develop energy and transport, address social issues and for state expenditure, Kyrgyz news agency 24.kg said.
But the BBC's Central Asia correspondent, Rayhan Demytrie, says questions are being asked about the government plans for the reconstruction of Osh, the scene of June's deadly clashes between the Kyrgyz and Uzbek communities.
In a leaked letter obtained by the BBC, the UN called on the Kyrgyz president not to press ahead with redevelopment of the city at the expense of the Uzbek minority.
It warned that the fighting largely affected ethnic Uzbeks and that government plans to relocate them to make way for new housing could add to their sense of insecurity, our correspondent says.
The government wants to build new high-rise apartment blocks to replace single-storey buildings in the damaged areas.
They say the residents will be offered compensation for their property, and an opportunity to live in new accommodation or to relocate.
But many lost their ID and other documents proving property ownership and they face problems getting compensation.
Some 70% of Osh residents live in single-storey garden houses in close-knit neighbourhoods.
Critics are concerned the government re-development plan will ruin the traditional way of life of many Uzbek communities already traumatised by the violence.