Submarine focus for US-South Korea military drill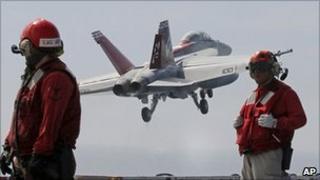 The US and South Korea practised anti-submarine drills on the second day of joint exercises aimed as a show of strength to North Korea.
Officials said the drills in the Sea of Japan focused on detecting and destroying enemy submarines.
They follow the 26 March sinking of a South Korean warship, the Cheonan, near the inter-Korean maritime border.
International investigators say a torpedo fired from a North Korean submarine sank the ship.
North Korea denies any involvement and has demanded its own investigation into the incident, which left 46 South Korean sailors dead.
The joint US-South Korea exercises, which began on Sunday, involve 20 ships including the aircraft carrier USS George Washington, 200 aircraft and some 8,000 personnel.
They are being held in international waters to the east of the Korean peninsula.
An official said as well as the submarine drills, aircraft would conduct live fire exercises on Monday.
North Korea has protested strongly against the exercises.
On Saturday, the communist country threatened to use its nuclear deterrent in a retaliatory "sacred war" in response to the exercise.
However the South Korean military were monitoring the North and had detected no unusual activities, Yonhap news agency reported, citing an unidentified military official.