China 'may review execution policy changes'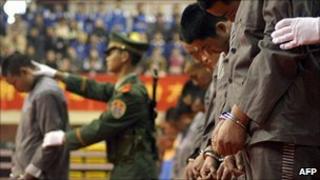 China is considering reviewing the number of crimes which attract the death penalty, a report suggests.
The country's highest law-making body will debate a draft amendment to the criminal law next month, a report in a liberal newspaper said.
There are currently 68 crimes which carry the death penalty in China.
The South Weekend newspaper quotes a law professor at Beijing University as saying this was unnecessary and hurt China's global image.
The report has been widely republished in China's online media.
The newspaper, based in the southern city of Guangzhou, says the draft amendment will be debated by the Standing Committee of the National People's Congress.
One suggestion, it says, is that the death penalty is unsuitable for elderly people.
Beijing does not publish official figures on executions, but Amnesty International estimates that China executed "several thousand" people in 2009.
Chinese officials say the number of executions has dropped since 2007, after a change in the law meant all death sentences had to be reviewed by a higher court.
There had previously been repeated claims of miscarriages of justice since lower courts were given the right to approve the death penalty in the 1980s.