Vietnam calls on Asean nations to embrace nuclear power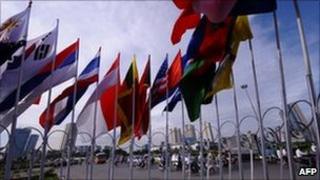 Vietnam has called on South East Asian nations to build nuclear power stations to meet rising energy demands.
The proposal came at an energy policy meeting held by the Asean group of countries in Dalat, Vietnam.
As economies in the region continue to grow, so too does the demand for stable, secure energy. Going nuclear is increasingly seen as an attractive option.
There is no operational nuclear power plant in South East Asia today.
But eight out of the ten countries that make up the Asean regional grouping have plans to add nuclear energy to their generating portfolios.
Safety concerns
Now Vietnam has suggested that those plans be coordinated to develop a region-wide approach.
The move is likely to raise concerns over safety and the potential for nuclear proliferation.
South East Asia is one of the fastest growing economic areas in the world. But many, if not most, countries suffer periodic bouts of power cuts.
Some nations are looking to hydropower, building huge dams along the Mekong river. But these have angered local communities who complain that water flows and fish stocks have been affected.
Renewable sources such as solar power are being promoted by environmentalists.
But nuclear offers the potential of large volume, and temptingly, Russia has offered to help build the power plants South East Asia might need.