Another Foxconn worker falls to death in China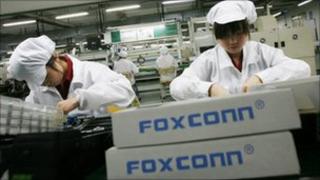 A worker at a subsidiary of computer-parts maker Foxconn has died after falling from a dormitory building in southern China, state media say.
The employee worked for Chimei Innolux Corp at its plant in Foshan City in Guangdong province.
Foxconn has come under scrutiny since 10 workers committed suicide in the last year by jumping from buildings at the firm's huge factory in Shenzhen.
It is not clear if the latest death was suicide, Xinhua news agency said.
The worker was reported to be an 18-year-old summer intern from Hebei province in northern China.
Foxconn makes Apple's iPhone as well as products for Dell, Nokia and other technology brands.
Foxconn promised to raise its workers' pay and improve living conditions at its dormitories after the spate of suicides.
China has been struggling with a wave of unrest among its migrant workers, who are demanding better pay and conditions.