Kyrgyz troops using torture on detainees, says UN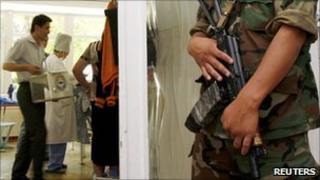 Security forces in Kyrgyzstan have detained hundreds of people and used torture on some of them following unrest in the south, UN human rights commissioner Navi Pillay says.
Mrs Pillay said her staff in Kyrgyzstan had evidence of arbitrary detention, torture and ill-treatment of detainees leading to forced confessions.
She said most of the detainees were young Uzbek men.
Deadly violence erupted in June between the Kyrgyz and Uzbek communities.
Up to 2,000 people may have died in the clashes and tens of thousands were displaced.
The commissioner's remarks came in a statement issued from UN headquarters in Geneva.
'Ethnic bias'
Mrs Pillay said her office believed over 1,000 people had been detained in the southern cities of Osh and Jalalabad since the violence.
"Large numbers of people - most of them young men, and virtually all of them Uzbek - have been arbitrarily detained in ways that not only demonstrate flagrant ethnic bias, but also break many of the fundamental tenets of both Kyrgyz and international law," she said.
The local authorities were turning a blind eye both to the arrests and the subsequent "torture and ill-treatment" of detainees, she said.
There were also, she said, reports of detainees being forced to confess to crimes they had not committed, to implicate others, or to pay large sums of money to be released.
"Lawyers and human rights defenders who have tried to seek justice have been directly threatened, and in some cases detained themselves," she said.
Her statement paints a bleak picture of the human rights situation in Kyrgyzstan in the wake of the unrest last month, says the BBC's Imogen Foulkes in Geneva.
Mrs Pillay is calling for ongoing independent monitoring of human rights in the region, and for an international investigation into June's violence.