Former N Korea spy in Japan to tackle abductee issue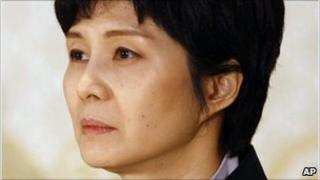 A former North Korean spy who blew up a South Korean airliner two decades ago killing 115 people has been allowed into Japan.
Kim Hyon-hui will meet the families of Japanese people abducted by North Korea to train its agents.
For the visit to take place Japan has waived immigration rules and police are not expected to question her past use of a fake Japanese passport.
There has been criticism in Japan of the decision to allow Ms Kim's visit.
The former North Korean spy was flown on a government-chartered jet to Tokyo's Haneda airport.
Kim Hyon-hui was shielded from view with large umbrellas as she was ushered into a car, and driven to a mountain summer house belonging to the former Prime Minister Yukio Hatoyama.
The 48-year old was sentenced to death for bombing a South Korean airliner in 1987, but was later pardoned and became a best selling author.
She has been allowed into Japan to meet the families of people abducted by North Korea during the 1970s and 1980s and forced to teach spies to pass themselves off as Japanese.
Kim Hyon-hui is said to have met several during training before the bombing including Megumi Yokota, kidnapped in 1977 while walking to school.
Eight years ago North Korea acknowledged taking 13 people and allowed five to return, saying the rest were dead.
Japan has been demanding proof ever since and an investigation into many other suspected abductions.
To allow Ms Kim's visit, the government has waived immigration rules barring foreigners sentenced to more than a year in prison from entering the country.
The police are also expected not to question her about her use of a fake Japanese passport during the bombing
However, critics say any information she may have is likely to be decades out of date, and the trip has been branded a stunt to gloss over the government's lack of progress on the abduction issue.