Asean diplomats give Burma 'earful' over its election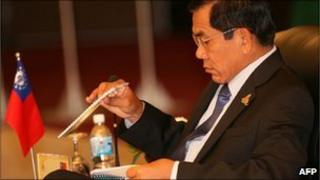 South East Asian politicians have reportedly told Burma they are greatly concerned about whether its planned election will be free and fair.
The secretary-general of the regional grouping Asean, Surin Pitsuwan, said Burma got an "earful" from foreign ministers at the meeting in Vietnam.
Critics say the Burmese election, the first in 20 years, is a sham designed to reinforce military rule.
The detained pro-democracy leader Aung San Suu Kyi is banned from taking part.
At a dinner on the eve of the conference, many ministers told their counterpart from Burma that the military leaders should hold "free, fair and inclusive" elections.
"Myanmar [Burma], I think, got an earful last night that Asean is very much concerned," Surin Pitsuwan told reporters on the sidelines of Tuesday's meetings.
The BBC's Rachel Harvey in Hanoi says the criticism by the Asean nations is an apparent break with accepted protocol of non-interference and gentle persuasion.
Burma has so far refused to reveal the date of elections which it says it is planning to hold this year.
Indonesian Foreign Minister Marty Natalegawa told reporters Asean could consider sending people to observe the elections.
"I use the term visitors. I deliberately avoid the term observer or monitors. But certainly it would be great to have parties other than the country itself being able to experience the election so we can make our own impressions," he said.
Condemnation
Tensions on the Korean peninsula could also surface at the summit in Hanoi, as well as how to manage the region's economic recovery.
Diplomats from the 10 members of Asean will be joined later by ministers from the Asian region, the European Union and the United States.
Our correspondent says there may well be condemnation of the sinking of a South Korean warship in March.
An international investigation said North Korea was responsible, though the United Nations earlier this month stopped short of apportioning blame.
South Korea is pushing hard for a stronger form of words from this regional forum, our correspondent says.
In his opening remarks the host of the meeting, Vietnamese Prime Minister Nguyen Tan Dung, highlighted peace and security in the region.
Asean, he said, should demonstrate its role as a leading force in promoting dialogue and co-operation.