British death penalty author freed on bail in Singapore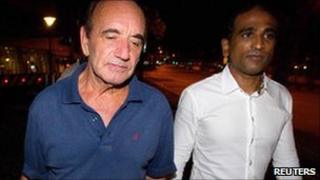 The British author Alan Shadrake, who was arrested in Singapore on defamation charges, has been released on bail.
The government has said his anti-death penalty views are not the cause of his arrest, but what they called his violation of the laws of Singapore.
A trial date, 30 July, has been set and Mr Shadrake is not allowed to leave the country without permission.
The government has a long record of vigorously prosecuting anyone it sees as attacking the young country's image.
Short of sleep
"I'm feeling pretty shaken at the moment," 75-year old Mr Shadrake said after he was freed.
"I've been awake almost the entire time since they dragged me out of bed at 6am, Sunday morning. I've had a few hours sleep on a very hard floor.
"I've been sitting at a desk being interrogated all day long explaining all the chapters of the book, going into the history of the book, my research, why I did the book."
Mr Shadrake launched his book, "Once a Jolly Hangman - Singapore Justice in the Dock", in Singapore at the weekend.
Now he has paid just over $7,000 (£4,750) bail, and must wait 10 days for his trial.
This will be on criminal defamation charges and possibly also contempt of court - after the attorney general's office said he had cast doubt on the impartiality and independence of the judiciary. He faces a possible sentence of two years in jail.
The Singapore government has said its position on the use of the death penalty is well established and well known. People with different opinions about it are "as a matter of principle" allowed to express those views, a Ministry of Home Affairs spokesman said.
Indeed Mr Shadrake's book is not banned, although it is hard to find in a book store.
Matters of principle
"Shadrake is now under investigation for criminal defamation. He is also the subject of contempt of court proceedings initiated by the Attorney-General's Chambers," the ministry statement said.
"His anti-death penalty views are not the issue in these investigations; it is his violation of the laws of Singapore which are.
"Anyone, Singaporean or otherwise, who breaks the law regardless of the cause he touts, will be taken to task. Shadrake is no exception," the ministry statement said.
Observers of the case expect it to be resolved quickly.
Use of the death penalty is not controversial in Singapore, where it is mandatory for murder, drug trafficking and other crimes.
The government routinely prosecutes - and wins - cases of defamation against journalists and academics.
Human rights activists say the government uses defamation laws to stifle opposition views.