Probing China's asbestos workshops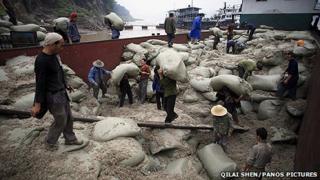 China has strict rules on asbestos use, but these are often ignored in small-scale, unregulated workshops. The ICIJ heard from a reporter who visited one such enterprise as recently as 2008, and saw conditions employees were working in. Report by the BBC's Steve Bradshaw, the ICIJ's Jim Morris and Te-Ping Chen.
It is 10am, and a reporter from the Nibo Evening News - a government-run paper - arrives in Shao Xiang village, Di Tang district, Yuyao City, in sub-tropical coastal Zhejiang, China.
At the entrance to the Long Ten heat insulating material company, somebody has stacked a dozen rolls of asbestos fabric. Inside, a 25-year-old worker is sitting at one of five machines; she switches it on.
Dust blows in the reporter's face, until the girl opens a dust cover to suck it away. But, the reporter notes: "The air is still filled with dust."
The girl's boss, Shao, has warned her the job might affect her health, but she hopes she will be lucky.
Shao, himself, likes to keep clear of the room. His wariness is not misplaced, for he shows the reporter health check-ups on eight of his workers, one of whom already feels "distress", while five have unspecified chest "abnormalities".
There are more than 100 "asbestos enterprises" close by in Yuyao and neighbouring Cixi, the newspaper believes, mostly family-run, with employees mainly from out-of-town, totalling maybe 1,000 jobs altogether. All are using white asbestos, the only kind of asbestos now allowed in China.
A day later, 17 October 2008, the Nibo Evening News calls for drastic action. "For those asbestos enterprises where dust is too hazardous, and which can't meet the dust control standards, the government should shut them down."
Not a world news headline, perhaps, but brave reporting. And surely evidence of concern for those who argue - like Canada's government - that we can rely on developing countries to handle white asbestos safely.
In 2009, Canada exported 153,000 tonnes, to Indonesia, Thailand, Mexico, Sri Lanka, Pakistan and the United Arab Emirates.
High price
British toxicologist John Hoskins, is one of a minority of scientists who believe white asbestos is being unfairly demonised, but he acknowledges that it is hard to judge from thousands of miles away whether the mineral is used safely in Chinese factories.
"We don't really know what's going on there," he points out.
Li Qiang, executive director of China Labor Watch, which monitors workplace violations, says the guidelines that China's government has put forward to protect workers do, in fact, offer workers protection.
"But the challenge is Chinese officials don't have any way to effectively implement them. Factories flagrantly fail to respect Chinese law," he says.
Jukka Takala, director of the European Agency for Safety and Health at Work (OSHA), says the annual death toll from mesothelioma, lung cancer and other asbestos-related diseases in China may reach 15,000 by 2035.
It is the price the nation will pay for being the world's top asbestos consumer and for failing, until recently, to address health risks associated with asbestos mining and manufacture.
The authorities have taken some steps to try to mitigate the looming health crisis. Brown and blue asbestos - believed by some scientists to be more hazardous than white - have been banned, as has the use of all forms of asbestos in automobile brake linings and other friction products.
In Beijing, itself, no asbestos-containing materials has been allowed to be used in construction since January 2004.
But elsewhere in the country, asbestos use is booming. More than 400 factories turn out 300m sq m of asbestos sheeting for roofs and walls each year; other factories make asbestos brake pads, gaskets and cloth.
'Exaggerations'
The country has been debating the wisdom of asbestos use for years. The Nibo Evening News story exposing lax safety standards in Yuyao City was far from the first of its kind.
Stories abound of unsafe asbestos workshops, dust safety levels exceeded many times over, and employers getting hit with heavy fines.
Chinese epidemiologists have also carried out numerous studies on asbestos, often concluding - like most of their Western counterparts - that exposure to white asbestos increases the risk of lung cancer and mesothelioma.
And just as in other countries, the industry's main lobby group, the China Non-Metallic Minerals Industry Association, promotes the supposed safety of white asbestos, linking on its website to materials from Canada's Chrysotile Institute and Russia's Chrysotile Association.
The Chinese group denounces what it calls "exaggerations" of the fibre's deleterious effects, and says that those who use phrases such as "time bomb" to warn of looming disease outbreaks are biased. The group failed to respond to multiple interview requests.
Unlike some Western nations, China has been slow to embrace asbestos substitutes such as cellulose-fibre reinforced cement.
Still, concern over unbridled asbestos use may be building in the region. Last year, Hong Kong hosted a meeting of anti-asbestos activists from around the world. The result - a declaration calling for a ban on all forms of asbestos in Asia.