Thousands in Asia held over World Cup bets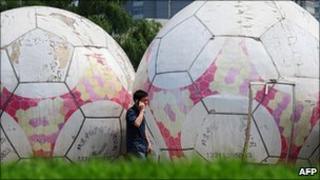 More than 5,000 people have been arrested across Asia as part of a World Cup operation against illegal gambling.
Almost $10m was seized during the crackdown in China, Malaysia, Singapore and Thailand, the international police force Interpol said.
Police in those countries "identified and raided nearly 800 illegal gambling dens", Interpol announced.
It is not clear whether results on the pitch were influenced - Interpol said that would form part of a wider probe.
In the past, so-called spot bets have been placed on things like the first corner or the first booking, much easier to fix than a match involving 22 players, says the BBC's Christian Fraser in Paris.
During Operation Soga III, which ran from 11 June to 11 July, police seized assets including cars, bank cards, computers and mobile phones.
The dens handled more than $155m (£100m) in bets, Interpol said.
Interpol, which facilitates international police co-operation, is based in the French city of Lyon.
Police forces around the world now hope that the information gathered will lead them to more people involved in illegal football gambling.
Online network
The crackdown would also have a long-term impact on organised crime gangs, said Interpol's chief of police services, Jean-Michel Louboutin.
"The results we have seen are impressive, not only in the number of arrests and seizures made across the region in just one month, but in terms of the police co-operation which made this possible."
He added that the operation had also been a blow to corruption, money laundering and prostitution, and said football gambling had clear connections to those offences.
Interpol co-ordinated similar crackdowns in 2007 and 2008, codenamed Soga I and Soga II.
In total all three Soga operations have led to nearly 7,000 arrests and the seizure of more than $26m (£17m), Mr Louboutin said.
Last week details emerged of a Chinese gang accused of running a sophisticated online betting network in the run-up to the World Cup.
The gang, which was broken up last month, was alleged to have accumulated more than 100bn yuan (£9.7bn; $14.8bn), Chinese state media reported.