OSCE to send police force to Kyrgyzstan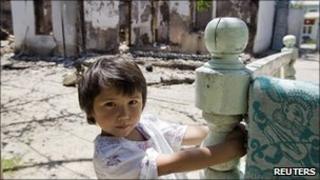 The Organisation for Security and Cooperation in Europe (OSCE) is to send a 52-strong police force to southern Kyrgyzstan, after inter-ethnic clashes.
High-level diplomats from the OSCE's 56 member states agreed the move at a summit in neighbouring Kazakhstan.
Up to 2,000 people may have died last month in violence between ethnic Kyrgyz and Uzbeks. Tens of thousands were displaced, and tensions remain high.
No timetable was given for the deployment to Osh and Jalalabad.
"We have adopted a document to dispatch to the regions of Osh and Jalalabad a group which will consist of 52 policemen representing the OSCE member states," senior OSCE official Herbert Salber told reporters.
Speaking ahead of the summit, Kyrgyz President Roza Otunbayeva said the OSCE force would be mainly responsible for training local police.
"The OSCE police will carry out training in the southern city of Osh, give advice to members of the security forces and carry out monitoring," Ms Otunbayeva told a news conference.
"They will be unarmed with the aim of preventing ethnic conflict," she added.
Regional security and Afghanistan were also on the agenda at the two-day summit in Almaty.
Empty promises?
The BBC's Rayhan Demytrie, who is in Almaty, says the summit is the biggest diplomatic event for the oil-rich Central Asian nation since Kazakhstan assumed the chair of the OSCE in January.
Kazakhstan is the first post-Soviet country to hold the rotating chairmanship of Europe's leading pro-democracy organisation.
The role was granted in exchange for promises of democratic reforms in the country, which human rights groups say Kazakhstan has failed to fulfil.
After it was appointed to chair the OSCE, Kazakhstan promised to introduce democratic reforms.
But recent steps - such as parliament's move to grant President Nursultan Nazarbayev permanent immunity from prosecution - have led some analysts to question whether Kazakhstan is fulfilling its part of the bargain, our correspondent says.