Aryan Khan: Drug charges dropped against Shah Rukh Khan's son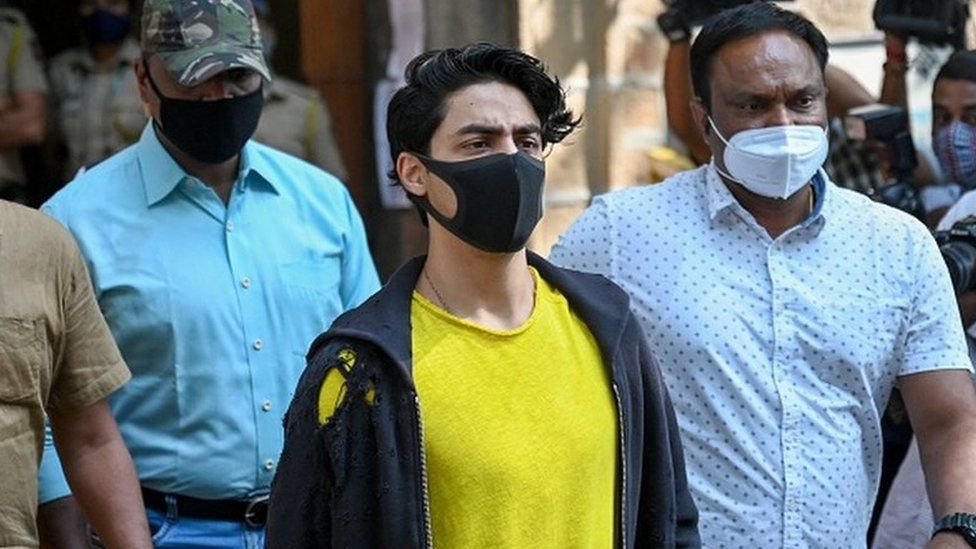 India's anti-drug agency has dropped charges against Bollywood actor Shah Rukh Khan's son in a drugs case.
Aryan Khan, 24, was arrested in October 2021 for allegedly doing recreational drugs at a party.
The Narcotics Control Bureau (NCB) had charged him under laws "related to possession, consumption and sale of illegal substances."
On Friday, the NCB cleared him in the case, saying "no drugs had been found on Aryan Khan".
A charge sheet filed in court by the agency on Friday named 14 accused in the case but left out six others, including Aryan Khan, "due to lack of evidence."
Officials from NCB had on 2 October 2021 raided a cruise ship, saying they had been tipped off that there were drugs on board.
Aryan Khan had been searched and interrogated before he boarded the ship - and eventually taken into custody by the NCB.
Khan was one of several people arrested in the case and spent nearly three weeks in jail. He was later released on bail.
The case had dominated headlines and conversation on Indian social media as the NCB claimed Aryan Khan was a habitual drug user and also supplied contraband.
The case saw several twists and turns. A key witness alleged that he was "forced" to sign "blank papers" at the NCB's office in connection with the case.
Sameer Wankhede, an officer in the charge of investigation, was removed from the case after allegations of blackmail surfaced.
On Friday, Khan's lawyer Mukul Rohatgi told media that Shah Rukh Khan was relieved that his son's name had been cleared. "Ultimately, the truth has prevailed," Mr Rohatgi told news channel NDTV.
Many Bollywood actors and TV personalities have been under scrutiny since 2020 in what appears to be an investigation into claims of widespread drug use in the Hindi film industry.
In 2020, the narcotics agency questioned at least four actresses, including Deepika Padukone, but none have been accused of any wrongdoing.
They also arrested actress Rhea Chakraborty in 2020 for allegedly buying drugs for her actor boyfriend, Sushant Singh Rajput.
Rajput, 34, was found dead in his flat and police at the time said he had killed himself.