A Zoom size window into Indian courts
By Meryl Sebastian
BBC News, Delhi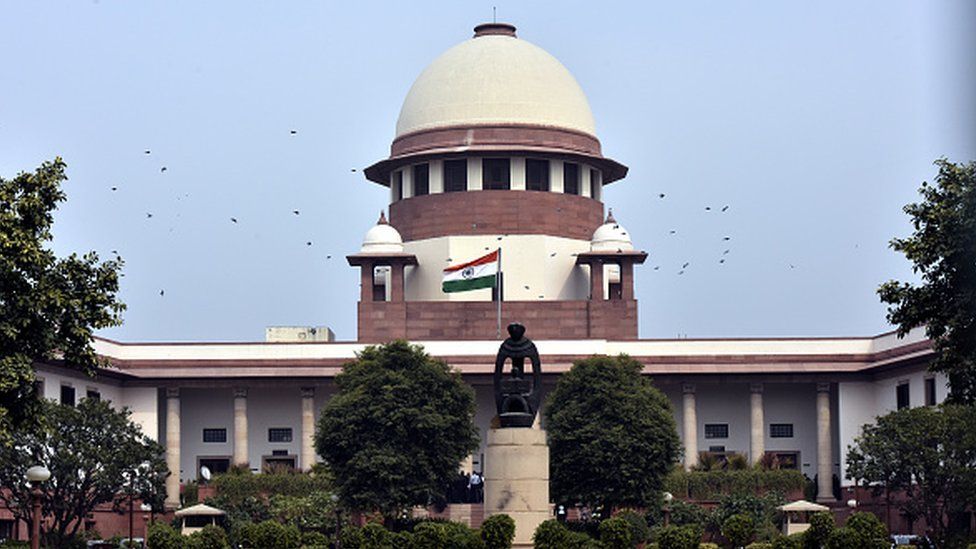 Virtual courts in India have provided moments of unintended hilarity - from a lawyer appearing shirtless for a hearing to another smoking hookah during proceedings.
But their larger impact has been the ease and accessibility they have provided to lawyers, journalists and citizens.
Shishira Rudrappa, co-founder of Bar&Bench said he started the legal news portal knowing "that one day court news would take up most of the front pages of our newspapers."
In the past decade, legal news websites like LiveLaw and Bar&Bench - alongside the growth of social media and the proliferation of smartphones in India - have transformed legal reporting from courtrooms.
While once these reports were limited to a court's verdict or a judge's observation, exchanges in courts now frequently make news.
"It has increased awareness about the coverage of the courts - people have a better idea about what is happening there," said Manu Sebastian, managing editor of LiveLaw.
Such real-time updates constitute a "virtual extension of the open court," a Supreme Court bench led by Justice DY Chandrachud observed last year.
In 2018, the Supreme Court approved livestreaming for Indian courts, but it was the pandemic that pushed the country's legal system to adapt to virtual courts to hear cases.
PV Uttara, a lawyer practising in the Kerala High Court, said she began making court appearances just as virtual hearings began in 2020.
Women lawyers have written about finding litigation in India a "boys' club", making it difficult for them to get a foothold in the profession.
Ms Uttara found virtual hearings were far less intimidating and helped her pick up courtroom practices better.
They also offered a great way to keep women and young lawyers - who are often underpaid - in the profession as it eased the time and money spent on in-person court appearances.
This also applied to ordinary citizens, for whom attending a hearing can be an arduous task, involving travel expenses and getting through layers of security, she said.
While clients often need a lawyer to explain a legal order in layman's terms, being able to see their case argued virtually gave them "a certain satisfaction" and "personal connection", Ms Uttara said.
The process also made hearings more accessible to people with lesser means, and those with illnesses or disability, she pointed out.
"Our courts are not the most disabled-friendly institutions," she says. A survey carried out by the Supreme Court admits as much.
The Kerala High Court adopted a hybrid system of physical and virtual court hearings this year, which helped Ms Uttara continue to work and provide for her family while being the primary caretaker of her ailing mother.
In 2020, the Gujarat High Court became the first to start livestreaming its proceedings. Months later, the Karnataka High Court followed suit. In February 2022, it livestreamed the hearings on the controversial hijab ban in high schools and colleges in the state.
Thousands of viewers tuned in on the official YouTube channel to listen to the arguments. People on social media debated courtroom behaviour and wondered if what they saw was normal practice.
Live broadcasts of court proceedings are very revealing, aren't they?

— Gautam Bhatia (@gautambhatia88) February 16, 2022
The increased scrutiny is not always welcome.
This week, the Delhi High Court admonished the federal government for the language it used in an affidavit opposing livestreaming of a case regarding same-sex marriage. News reports quoted the government as saying that the petitioner in the case was creating "unnecessary hype" of the matter with intention to "create hallucination of public interest and to make the matter sensational".
Chief Justice NV Ramana has called live streaming a "doubled-edged sword" but it was the judges he cautioned. "A judge cannot be swayed by popular opinion," he said
In the US, the livestreaming of actor Johnny Depp's defamation case against actor Amber Heard has raised concerns about the media circus surrounding the trial and its impact on survivors of domestic abuse.
But in India, lawyers say existing rules protect the privacy of individuals in cases of a personal nature - whether it is in cases of sexual assault or persons with HIV.
The Karnataka High Court, for example, does not livestream cases of marital disputes, sexual offences, child abuse and crimes under the Juvenile Justice Act. The court can mute discussions among judges or lawyers, and any sharing of personal information of a litigant. Petitioners can also apply against livestreaming of their cases.
"These accommodations are not new to Indian jurisprudence or to courtroom procedures," Ms Uttara said.
Since livestreams are limited to a few courts, tweets and real-time updates from courtrooms by journalists act as substitutes, Mr Sebastian said.
Making the legal system accessible to every Indian citizen is a complex process, Mr Sebastian said.
Effecting these changes this will require efforts from not just the media, but policymakers, legislators and the government, he added.