Indian man sentenced over anti-Sikh riots in 1984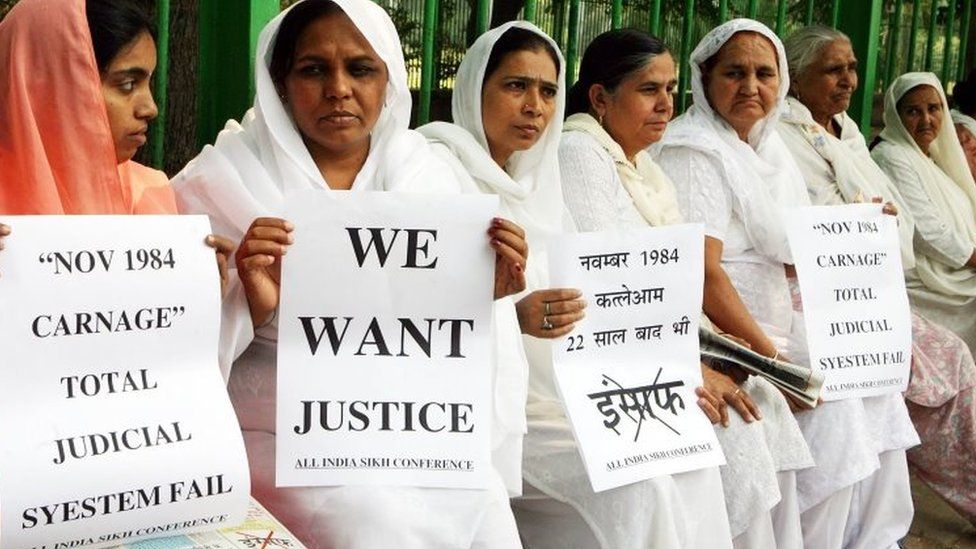 A court in India has sentenced a man to death over the 1984 anti-Sikh riots that left nearly 3,000 people dead.
Yashpal Singh was earlier found guilty of killing two Sikh men in Delhi. Another man, Naresh Sherawat, was given life imprisonment.
Sikhs were targeted in the capital and elsewhere after Prime Minister Indira Gandhi was assassinated by one of her Sikh bodyguards.
Relatives of the victims rejoiced when the judge read out the sentence.
The two convicts were also fined by the court in Delhi.
The two Sikh men who were killed in November 1984 were Hardev Singh, 24, and Avtar Singh, 26.
The anti-Sikh violence lasted three days, with Hindu mobs hunting down Sikhs across India.
Mrs Gandhi's assassination came four months after the storming by the Indian army of the Golden Temple in Sikhism's holy city Amritsar, where Sikh militants fighting for an independent homeland had taken up position.
Sikh activists accuse leaders of Mrs Gandhi's Congress party of fanning the anti-Sikh riots.
Few have been brought to justice over the killings.