Preity Zinta: India outrage over Bollywood actress's #MeToo comment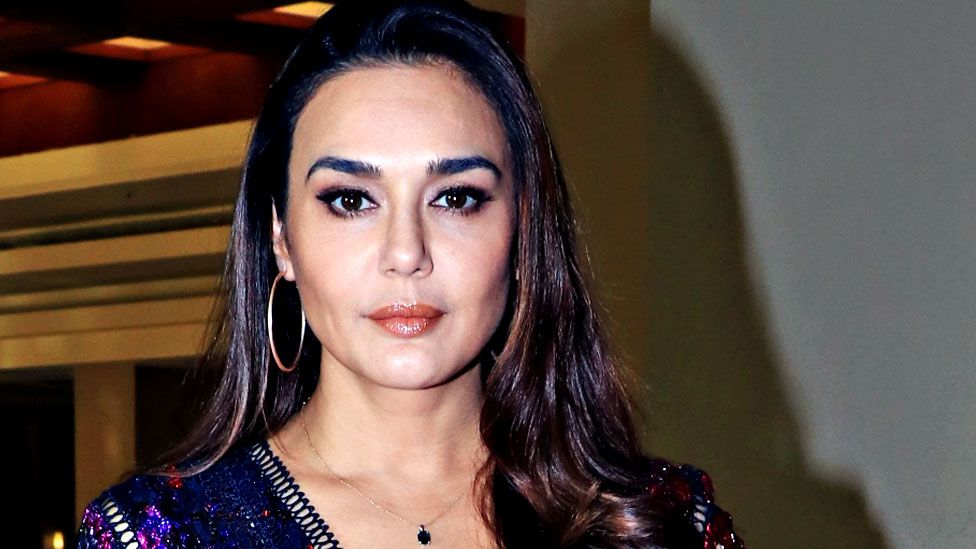 Bollywood actress Preity Zinta has been criticised on social media for making comments perceived to be trivialising the #MeToo movement.
She has in turn blamed "bad editing" of her interview for the controversy.
The movement, which began in Hollywood a year ago, has seen thousands sharing their stories of sexual harassment.
In recent months, #MeToo has been gaining momentum in India with women calling out comedians, journalists, authors, actors and filmmakers.
Although Zinta is no longer very active in Bollywood, a few years ago she was at the top of the industry and starred as the leading lady in films with superstars Shahrukh Khan, Salman Khan, Aamir Khan and Hrithik Roshan - so there remains a lot of interest in what she says.
Her controversial comments were made during a video interview she recently gave to the entertainment website Bollywood Hungama.
In recent weeks, many actors and actresses have spoken out in support of survivors of sexual harassment; and celebrities are regularly being asked to clarify their stand on #MeToo, so it's surprising that Ms Zinta came to this interview completely unprepared, says the BBC's Geeta Pandey in Delhi.
On being asked if she had personally experienced any harassment, she began giggling before answering, "No, I haven't, I wish I had... [Then] I would have an answer to tell you."
She then went on to say that it was "a very relevant question because people treat you the way you want to be treated" - a comment that many said amounted to "victim shaming".
Earlier in the interview, the actress said it was "important that the #MeToo movement had started", but then went on to add that she felt bad "when women are using it when it's not that serious or for personal vendetta or publicity and diluting the movement".
The video of her interview went viral on social media with many accusing her of mocking the #MeToo movement:
The unedited version has more context but is so much worse. You think she's heading in the right direction and she promptly turns around and contradicts herself and victim shames and says she has more perspective because she lives in America and oh god why https://t.co/ihb9b9XYHn

— Sandhya Ramesh (@sandygrains) November 17, 2018
Following the backlash, Zinta tweeted on Monday saying the video was edited badly "to trivialise and be insensitive":
Really sad 2see how the interview Is edited to trivialis& be insensitive. Not everything is traction & as someone being interviewed I expected decency & maturity froma journalist @iFaridoon. I did 25 interviews that day & only yours turned out edited like this #dissappointed

— Preity G Zinta (@realpreityzinta) November 19, 2018
Many, however, said they were disappointed by her comments and expected better from her.
The Indian #MeToo movement began in September when actress Tanushree Dutta repeated her 10-year-old allegation against veteran actor Nana Patekar, accusing him of harassing her on a film set in 2000. Patekar has denied the charge, calling it "a lie".
But since then several other Bollywood actors and directors have faced accusations of improper behaviour.