What Gujarat attacks on migrants say about India's economy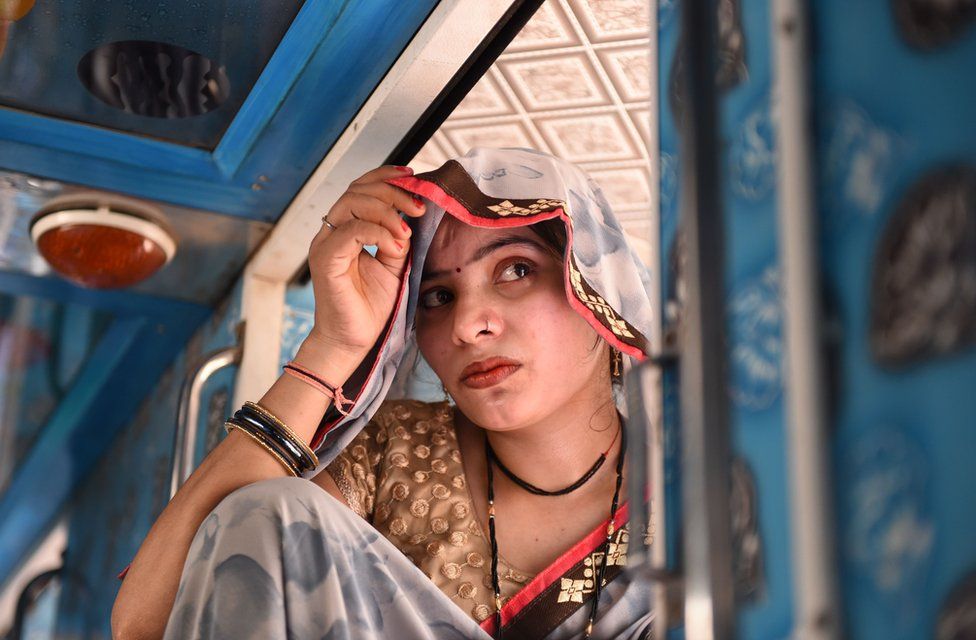 Tens of thousands of migrant workers fled India's western state of Gujarat in October in the wake of attacks targeting them. The BBC's Nitin Srivastava reports from Himmatnagar town on what led to the violence.
"I had to run six miles to catch a bus at midnight," said Ram Pyare, who worked in a factory in the town.
The 33-year-old took the bus to the capital, Ahmedabad, and went to the train station - but all the trains were full. It was another eight hours before he had borrowed enough money to buy a ticket to go home to his village in Jaunpur district in the northern state of Uttar Pradesh.
He was among the thousands of migrants - estimates range from 50,000 to 80,000 - who fled Gujarat after the attacks. The violence, which lasted for more than a week, began after a migrant labourer was arrested for allegedly raping a 14-month-old girl.
No-one died in the violence, but the fear among the migrant workers was evident as they queued up at railway stations and bus stops to escape.
The attacks were sparked by the alleged rape but they also exposed economic anxieties in a state where local traders and businessmen are struggling and joblessness is on the rise. And migrants - who account for a significant portion of the workforce and whose cheap labour keeps wages low - are often seen as the problem.
"All my savings are gone," Ram Pyare told me over the phone from Jaunpur. He is yet to find a job but he vows he will never return to Gujarat, where he lived for six years.
"I had planned to bring my family there but not anymore."
Ram Pyare used to work in a factory that manufactured ceramic tiles in Himmatnagar in northern Gujarat.
He had just finished dinner on 28 September - it was a breezy night, he recalls - when he heard a commotion outside. More than 20 locals stormed inside, he says, "armed with bamboo sticks and iron rods". They beat up the workers while hurling abuses at them and warning them to never return to Gujarat.
"I would have been lynched if the security guard had not helped me sneak out of the back door," he adds.
Gujarat, the birthplace of Mahatma Gandhi and current Prime Minister Narendra Modi, has long been heralded as an example of economic development. Its labour-intensive industries - such as textiles, jewellery and ceramics - draw a large numbers of migrants from poorer states in the north. An estimated 10% of Gujarat's more than 60 million people are believed to be migrants.
But growth has stalled in recent years because of the twin shocks of demonetisation and the goods and services tax. The surprise cancellation of 86% of currency notes by the government in November 2016 hit small traders and businesses; and the new, uniform tax code also cost them as they struggled to adapt to it. Many cash-only businesses in the informal sector were forced to close or register for the first time.
Gujarat's farmers too, like those across the country, have been struggling in the face of stagnant incomes and crop prices.
With general elections round the corner, opposition political parties have been banking on this frustration.
But tension still persists. Nearly two months later, it's hard to say how many of the workers who left have returned.
The factory Ram Pyare used to work in was set on fire by a mob as were the residential quarters in the compound.
"The situation turned so bad that police officers who were on leave were ordered to report back," said constable Pravin Sinh.
"We had never experienced such animosity from locals," Ram Pyare said, adding that he was shocked to find that many of the attackers included people from neighbouring villages that he had interacted with in the past.
Angry villagers in the area downplayed the violent reaction but told the BBC that "if something like this ever happens again, we won't hesitate to kill and defend our honour".
They also talk about their deep-seated resentments against the migrants.
"Our lands are gone and 90% of the factory workers are non-Gujaratis," said Rajendra Sinh Rathod, a former village head in the Sabarkantha district, where the alleged rape happened.
"They should hire migrants, we never objected to that. But what about locals? We need to be given preference."
The state's industrial policy says that 70% of a factory's workforce must comprise locals. But migrant workers remain the first choice for factory owners as they are believed to work longer hours for lower wages.
But Gujarat's interior minister Pradeep Sinh Jadeja denies that employment norms have been flouted.
"We have never compromised on labour laws. Some businesses may have flouted norms but necessary action is being taken against them. As far as the migrants workers are concerned, most will return. They have always felt safe in the state," he told the BBC.
Not everyone agrees with that statement.
"Gujarat has a history of opposing migrants - right from the days when people from southern India arrived here to do accounting jobs back in the 1960s and 1970s," said Professor Gaurang Jani, a sociologist.
"Be it [over] vegetarian or non-vegetarian [food], be it [over] religion or community, Gujarat has seen a continuous process of intolerance. It's not visible from outside but it escalates into a big issue even after a minor incident."
The anti-migrant violence has once again put the focus on the deep fissures that exist in Gujarat.
"What happened is scary. Thousands sold off their gold jewellery and valuables at throwaway prices and ran away. But the state needs migrants to keep factories running," said Shayam Thakur who runs an organisation to protect the interests of migrant workers from the northern states.
Many locals echo Mr Thakur's sentiment and worry that the "anti-migrant" attitude may set a dangerous precedent.
"The guilty should be punished but why hold all accountable for some?" said Payal Thakor, a nurse in a private hospital in Sanand city.
"They came here for a livelihood and cannot be thrown out like this."