Reality Check: The worst place to be stranded at sea?
By Justin Parkinson
BBC Reality Check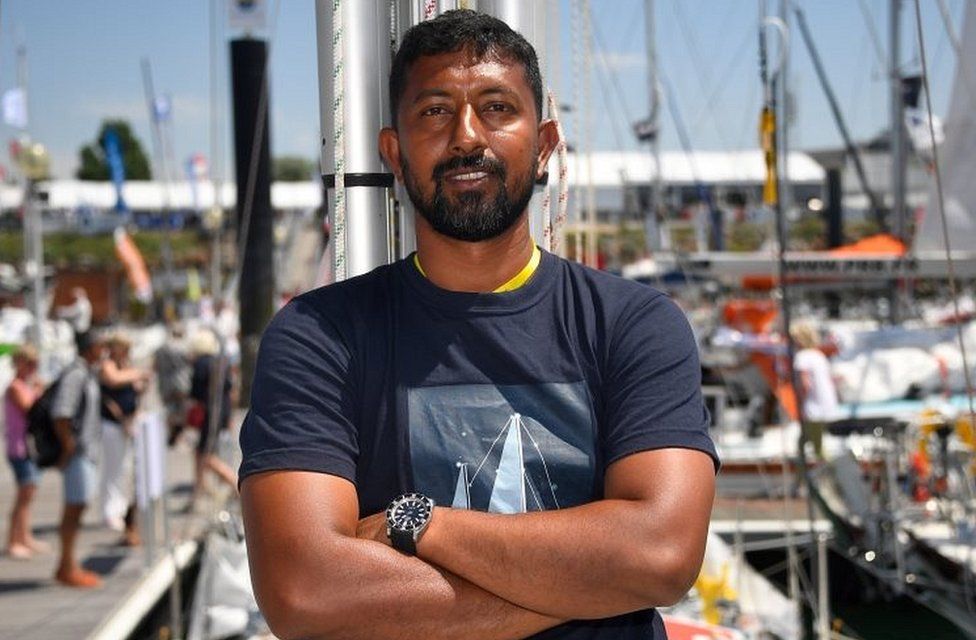 Indian yachtsman Abhilash Tomy has been rescued after his boat was severely damaged nearly 2,000 miles (3,200km) off the coast of Western Australia. Is there any worse place to get stranded?
The southern Indian Ocean is vast and largely free of humans. Abhilash Tomy got a reminder of this when his boat, the Thuriya, had its mast damaged during a storm last Friday.
The organisers of the Golden Globe solo round-the-world race, in which he was competing, said Mr Tomy had been stranded 1,900 miles off Australia - "the extreme limit of immediate rescue range".
The Australian Maritime Safety Authority, which co-ordinated the effort to bring back Mr Tomy, called it "one of the most remote areas on the planet, almost equidistant from any of the search-and-rescue facilities".
But French fishing boat Osiris was nearby (in relative terms) and on Monday it rescued Mr Tomy.
The situation could have been worse.
"There are large areas of ocean where not much happens, in human terms, from one year to the next," says David Jardine-Smith, mass-rescue operations manager at the International Maritime Rescue Federation. "It's difficult to comprehend the sheer size of it."
When vessels get into trouble as far from inhabited land as the Thuriya did, national coastguards are unable to help because the location is not within range of rescue boats, Mr Jardine-Smith says. Instead, they have to rely on shipping in the area.
"If you can't get to people fast, they die of the cold or they drown," he says.
The section of the Indian Ocean where Mr Tomy got into distress does not contain a busy shipping lane.
"It's sporadic there," says Stuart Carruthers, cruising manager of the Royal Yachting Association. "It's completely unlike the Atlantic, where some of the lanes are so busy that, if you get into trouble, you'd almost be able to stop a ship by sticking your thumb out."
Once a rescuer gets to a stricken vessel, sea conditions can hinder efforts. "The differential movements caused by waves can make it hard to get someone in a stretcher across," Mr Jardine-Smith. "It's a very precise manoeuvre. The rescuers in the case of Mr Tomy's boat seem to have done an excellent job."
Fortunately for Mr Tomy, the 14m (46ft) waves and winds of up to 70 knots subsided before the French boat arrived.
Loneliness is part of being a long-distance yachtsman, but the spot where Mr Tomy was stranded was not the most isolated in the world's oceans, in terms of distance from any land.
In 1992, Croatian-Canadian survey engineer Hrvoje Lukatela worked out that the so-called "oceanic pole of inaccessibility" was in the southern Pacific.
Since named Point Nemo, it's 2,688km (1,670 miles) from Ducie Island, part of the Pitcairn Islands, to the north; Motu Nui, in the Easter Islands, to the north-east; and Maher Island, part of the Antarctic, to the south. No-one lives on them.
By contrast, the fishing boat that rescued Mr Tomy was taking him to Amsterdam Island, a small French territory in the area where he got into trouble. It's home to temporary workers at a volcanic research facility and has a hospital.
After treatment for back injuries, Mr Tomy is expected to be transferred from there to an Australian naval ship. His onward journey will take a while, too.