India mourns former PM Atal Behari Vajpayee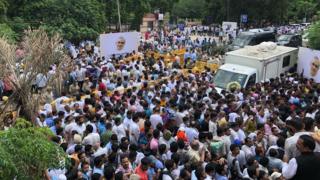 Tributes have been pouring in for former Indian prime minister Atal Behari Vajpayee, who has died aged 93.
Vajpayee was being treated for age-related illnesses in capital Delhi's AIIMS hospital.
Thousands of people lined the streets to pay their respects during his funeral procession amid tight security.
Vajpayee served as prime minister three times between 1996 and 2004 and was instrumental in making India a global nuclear power.
He was also one of the founding members of the Hindu nationalist Bharatiya Janata Party (BJP), which currently governs India.
Prime Minister Narendra Modi, members of his cabinet and other political leaders gathered at the BJP's headquarters in Delhi where Vajpayee lay in state to pay tributes.
Vajpayee will be cremated with full state honours in a national memorial estate in Delhi at 16:00 IST (10:30 GMT).
First elected to parliament in 1957, Atal Behari Vajpayee was widely considered a giant of Indian politics.
During his second stint as prime minister in 1998, he surprised the world by announcing that India had conducted a series of underground nuclear tests. It was the first time India had carried out nuclear tests since 1974.
The experiments had taken place without any warning to the international community, which led to widespread outrage and concern.
But in India he was hailed as a hero, and it helped him bolster his image as a leader who was serious about national security and not afraid of international pressure.
Indian politicians and celebrities, including cricket captain Virat Kohli and opposition Congress party leader Rahul Gandhi, took to Twitter to post their condolences.
The BBC's Vineet Khare was at the AIIMS hospital on Friday evening when the news of Vajpayee's death was announced. He said supporters who were carrying the former prime minister's pictures had gathered in large numbers and were shouting slogans.
"He was a charismatic politician who took pride in India and took everyone along. He will be missed," one of them said.
Vajpayee was also considered one of India's best orators, enabling him to connect with millions of Indians across class and caste divides.
He was a successful poet in the Hindi language and published a number of books.