India-Pakistan pen pals write their own history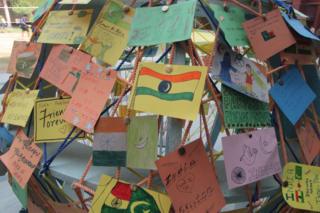 Thousands of students in India and Pakistan exchanged letters as part of a peace initiative until they had to stop because of increasing tension between the two countries. BBC Marathi's Prajakta Dhulap reports on the friendships that were forged across the border.
Fourteen-year-old Hrishikesh Dubey says his biggest treasure is four handwritten letters from Pakistan. They are from his friend Samiullah who lives in the city of Lahore.
In 2016 the Anuyog School in the eastern Indian business capital of Mumbai - where Hrishikesh studies - enrolled in a programme that allowed its students to be pen pals with students from Lahore Grammar School in Pakistan. The letters were addressed to the respective schools and the teachers matched students who then continued to write to each other.
Between 2016 and 2017, 212 school children from both countries exchanged some 1,000 letters, according to the programme's organiser, a non-profit named Routes 2 Roots. This wasn't the first time they had done this - the organisation started the cross-border pen pal programme in 2010.
Since then more than 50,000 kids from Mumbai, Delhi, and Dehradun have become pen pals with kids in Lahore, Karachi and Islamabad, says founder Rakesh Gupta.
"If we respect each other's culture, peaceful coexistence will not be an issue," says Mr Gupta. "We need to remove hatred from children's minds and teach them to respect another nation."
Do you play hockey too?
India and Pakistan have been at odds since 1947 when India won its independence and Pakistan was created.
The partition, as it is known, sparked horrific violence on both sides that killed at least one million people while millions more fled their homes. Since then they have fought three wars, two of which have been over Kashmir, which remains a thorny issue.
Mr Gupta says encouraging friendship between people from both countries is exactly what is necessary for improving ties between the neighbours.
Around October 2016, Hrishikesh wrote his first letter as part of the pen pal programme. He had a lot of questions because he didn't know much about Pakistan. He wanted to know if hockey, India's national sport, was also the national sport of Pakistan. He asked if vada pav, a popular Indian potato sandwich, was available there.
Within a few weeks, Hrishikesh got a response from Samiullah. who was also 14 years old. As their correspondence continued, their friendship bloomed - they wrote about themselves, told each other about their families and friends, the food they ate, the games they played and the hobbies they loved.
The letters, Hrishikesh says, helped them learn about each other's countries. Hrishikesh sent Samiullah photos of the Gateway of India and other famous spots in Mumbai. And he says his "dear friend" told him about the Lahore Fort and the Badshahi Mosque.
He even introduced Hrishikesh to the poems of the iconic Urdu poet Faiz Ahmed Faiz.
"It was not easy for kids to write letters, but teachers helped them," says Manisha Ghevde, a teacher at Anuyog School. "They were excited to write the letters and ask their questions. Then they would eagerly wait for a reply."
Safety concerns
The letters, all written in English, were full of information, descriptive details and questions.
"I like to eat biryani [a rice dish popular in India and Pakistan], I like to eat ice cream and I don't like pulses," a young Pakistani boy named Hamza wrote to his friend.
"I love baking and cooking and helping my mother," wrote a girl, Aneeqa. Another described the colour of her hair, which she said matched the colour of her eyes.
An Indian girl sent photos and a description of popular street food, from dosa or rice pancakes to jalebi - swirly and sticky crisps covered in melted sugar.
Through the letters, the children got glimpses of their neighbouring country that went beyond what they read in history textbooks.
In 2017, Hrishikesh's school decided to take some of the students to Pakistan.
But teachers at the Anuyog School found that many parents were reluctant to send their children to Pakistan on a visit - some said they had safety concerns while others said they didn't want their kids to go to a Muslim country.
"We need to change our perspective. So we need to try to create a positive image before a child starts thinking negatively. We spoke to the parents and two of them agreed to travel to Lahore. We teachers were also going to accompany them," says Satish Chindarkar, a trustee at the school.
Hrishikesh's visa was approved and his ticket to Lahore was booked. Samiullah asked him what he would bring for him from Mumbai. Hrishikesh's father's suggested a tailored suit from the local and beloved Abbas Tailor shop.
But he never got to give Samiullah his gift.
"We were told to cancel the trip because there was tension on the border," Mr Chindarkar recalls. But he is hopeful that one day he'll be able to take his students to Pakistan.
"For the past seven years, we have been taking kids from India to Pakistan and bringing kids from Pakistan to visit India," says Mr Gupta. "Every time both governments and the authorities have been supportive. But in 2017, the home ministry asked us to send back the Pakistani kids so they had to leave the tour in between."
Mr Gupta has also discontinued the pen pal programme. "After a lot of efforts we had created this chain of friendship between India and Pakistan. It won't be easy to create this again," he says regretfully.
But some students have managed to stay in touch. Shailaja Kumar was 13 years old in 2012 when she started writing letters to Asma in Pakistan as part of the same pen pal programme.
She visited Lahore and Islamabad in 2013. Her grandparents had left their home in Pakistan and migrated to India in the violent aftermath of partition. But her family had been proud that she was the first to return to Pakistan on a visit. Since then she has kept in touch with her friends in Pakistan, largely because of Facebook.
"I especially think of them on 14 August because it's their independence day," she says. India celebrates 15 August as independence day.
Hrishikesh is not in touch with Samiullah but he hopes to visit Pakistan someday.
"I don't know if Samiullah will recognise me. But still I would like to meet him. He is my friend."