India's Carnatic musicians threatened over Christian hymns
By Sudha G Tilak
Delhi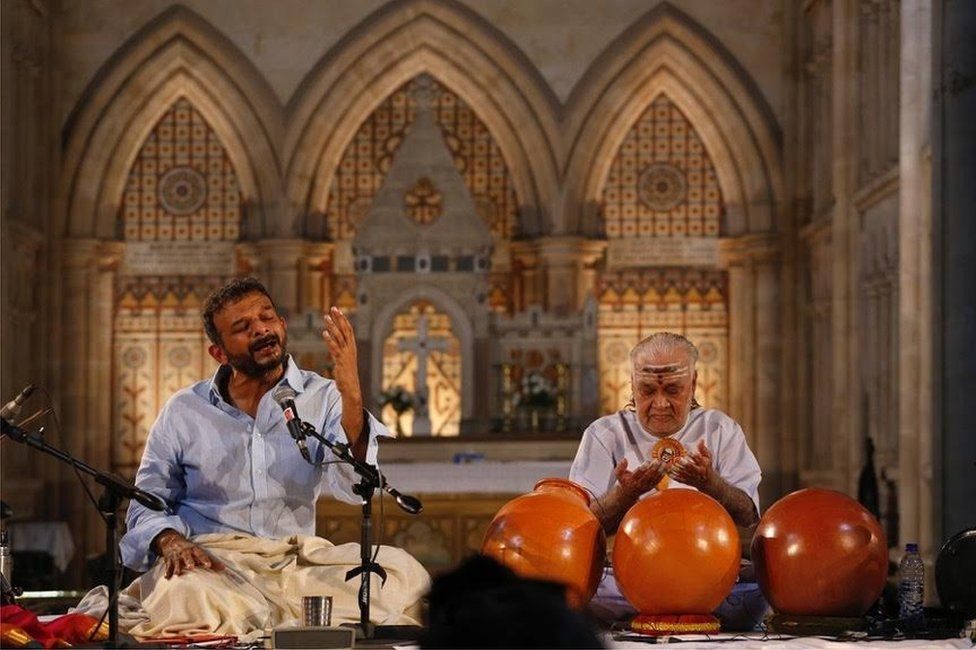 Carnatic musicians in the southern Indian city of Chennai have often been accused of being elitist and upper caste.
Their music is traditionally set to songs composed by Hindu devotional poets of the 17th Century and beyond, and is a genre associated with southern Indian classical music.
But, more recently, right-wing groups have issued threats to Carnatic musicians who are seeking to widen their horizons by singing about Christ or producing interfaith fusion music.
The current controversy began with a barrage of attacks aimed at Carnatic singer OS Arun.
He cancelled a scheduled performance, the Yesuvin Sangama Sangeetham (Fusion Music of Christ), a concert produced by popular Tamil Christian producer T Samuel Joseph, on 25 August, following objections by upper-caste Hindus and organisations, and vicious social media trolling.
Several Carnatic musicians have since been threatened by a right-wing group for singing Christian hymns and for participating in events organised by the community.
On Twitter, people accused Arun of selling out to "Christian proselytisers". He was called a "mercenary" working "for the stooges of the Vatican". Many said they would boycott his concerts.
The matter snowballed when Ramanathan Seetharaman, founder of a hitherto unknown fringe Hindu group, the Rashtriya Sanathana Sewa Sangam, with a following of about 18,000 high-caste Brahmins in the city of Coimbatore, phoned Arun and allegedly threatened to stop him performing.
"The vicious attacks and trolling has left me shattered," Arun told the BBC.
"That they recorded the phone conversation and uploaded it on YouTube and WhatsApp has made me lose faith in my community," he said.
He said he had often performed music of "other faiths" owing to his belief in the "encompassing and universal nature of music".
Following the fracas, his Carnatic music tour in the US was cancelled by the organisers.
"I have sung songs on [Dalit icon] Ambedkar's birthday on televised programmes for Dalit solidarity; Sufi music and alongside choir groups. This is ridiculous to emotionally pressurise us from singing," he said.
Mr Seetharaman told the BBC that "Christian and Islamic religious musicians do not sing Hindu sacred music, so why should our Carnatic musicians sing their songs?"
"Hindus must boycott those Carnatic singers who sing against the Hindu faith."
For more than a century, Carnatic music's syncretic side (its attempt to reconcile opposing practices) has had a tradition of Christian composers like Abraham Panditar or Vedanayakam Pillai setting songs to Carnatic melodies or ragas - the basic musical modes which denote "moods" in Indian classical music
KJ Yesudas, a Christian from neighbouring state of Kerala, is one of the most popular Carnatic musicians in south India
Celebrated classical musician TM Krishna performed at the Afghan Church in Mumbai last year and at the Christ the King Church in Chennai in the spirit of communal harmony in February. The Carnatic music vocalist has critiqued the south Indian classical music industry in the past for being a Brahmin preserve
Sheik Chinna Moulana, a Muslim, was a legendary Carnatic instrumentalist who played the nadaswaram, a sacred Hindu woodwind instrument. His sons are also celebrated instrumentalists, whose special performances in the Venkateshwara Balaji Temple in Tirupati are feted events
Eminent female Carnatic classical singers like Aruna Sairam and Nithyasree Mahadevan have sung in praise of Christ
Nithyasree Mahadevan has in recent years sung songs in the Telugu language in the Carnatic genre in praise of Christ. She said: "I feel happy and privileged to be part of an album that reaches out to everyone". But now she has had to offer an explanation on her Facebook page, saying that she "was against any religious conversion".
Social media posts have also revealed that groups of Carnatic patrons have written to major concert halls in Chennai pressurising them to boycott Carnatic singers who "plagiarise songs" (lyrics in praise of Christ set to Carnatic songs) or sing at Christian religious events.
While the attacks on social media have been relentless, some artists are not cowering.
Krishna has challenged "right-wing extremism", saying he will resist "bullying" by uploading a song in Carnatic genre in praise of Christ and Allah on YouTube.
"This is music that belongs to everybody," Krishna said.
Arun said: "I agree with Krishna. No, I will not stop my collaborative music."
Many others have supported the musicians for resisting such pressures.
When Hindu nationalists become
self-appointed custodians of art, artistes must resist by all means. In solidarity with @tmkrishna and other artistes speaking up. And no, this is not a case for "tampering" with Thyagaraja kritis. No one's doing that. https://t.co/kDPQquEyLy

— Meera Srinivasan (@Meerasrini) August 9, 2018
So Carnatic musicians should not sing Christian hymns? What kind of absurdity is this? If your music can bring peace and joy to as many people as possible isn't that what you should do? @arunasays

— Sumanth Raman (@sumanthraman) August 9, 2018
This December, when the famous, month-long Carnatic carnival in Chennai takes off, patrons and fans will know whether the plurality of music or its moral keepers have won the battle.
Sudha G Tilak is an independent Delhi-based journalist and writer