India leopard attack: Baby injured after being snatched in Gujarat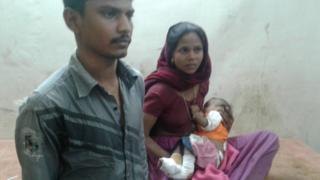 A four-month-old baby is being treated for injuries in the western Indian state of Gujarat after a leopard snatched him from his mother's arms.
The mother was carrying the baby while sitting behind her husband on a motorcycle when the leopard struck.
The father's cries for help were heard by nearby villagers who rushed out and encircled the animal.
"They started shouting which scared the leopard into dropping the baby," a forest official told BBC Gujarati.
The attack occurred in a forested region that was already being patrolled by guards.
"We rushed over as soon as we found out and called for an ambulance," a forest officer, who was on duty at the time, said. The mother was also injured and is in hospital with her baby, the officer added.
Dr Rajeev Deveshwar said both the baby and his mother were "stable and getting better".
Mahesh Pandya, a local environmentalist, told BBC Gujarati that incidents like this occurred in the area because humans had encroached into "spaces that the animals have occupied for years".
Instances of human-animal conflict have been increasing in India, where shrinking animal habitats often drive elephants, tigers and leopards into residential areas.
There are about 12,000-14,000 leopards in the country and on average one is killed every day.
Last year, wildlife officials in India took nearly 36 hours to catch a leopard that was spotted inside a car factory. Workers had to be evacuated and the factory temporarily shut down as rescuers tried to tranquilise the animal after a massive search operation.
In 2016, a leopard entered a school in the Indian city of Bangalore and injured six people who were trying to capture it. It took 10 hours to catch and tranquillise the animal.