Kashmir unrest as protester run over by police dies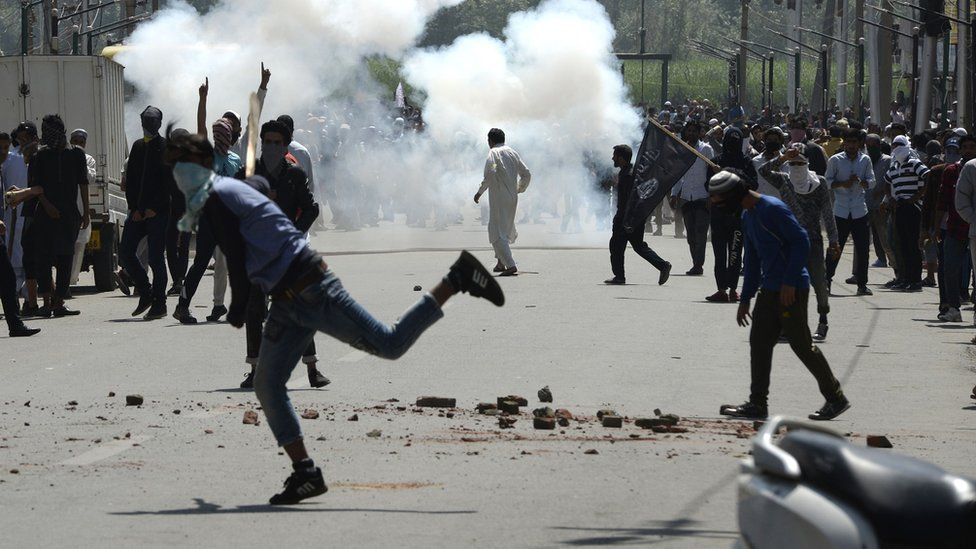 Anti-India protests have flared in Indian-administered Kashmir after one of two demonstrators run over by police on Friday died in hospital.
Police fired tear gas at stone-throwing protesters as hundreds attended the funeral of Kaiser Bhat, crushed by a jeep, in the summer capital Srinagar.
The authorities have imposed a curfew in parts of the city and blocked internet services.
Kashmir is the subject of a bitter dispute between India and Pakistan.
Friday's incident happened during protests against alleged police heavy-handedness in a raid during Ramadan on a city mosque they consider to be a hotbed of militants.
Security forces say the police were defending themselves from attack, but some local people say they deliberately drove into the crowd.
Graphic images have been circulating on social media of the young man's face as the paramilitary jeep drives over him.
On Saturday, shops and businesses were largely closed and there was a heavy security presence on the streets.
The incident comes just days before Indian Home Minister Rajnath Singh is expected to visit the state.
Muslim separatists have waged a violent campaign against Indian rule since the late 1980s, and many civilians support them.
Tens of thousands of people have been killed in the conflict in Kashmir, which both India and Pakistan claim in full.