India deaths after West Bengal election clashes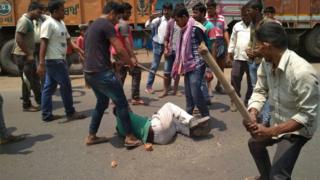 Five people have been killed in the Indian state of West Bengal amid violent clashes over local body elections, police say.
But reports from the ground indicate the toll could be as high as 10.
Violent attacks, voter intimidation and attacks on polling booths were also reported in several locations.
India's ruling Bharatiya Janata Party (BJP) has accused West Bengal's ruling Trinamool Congress Party (TMC) of instigating violence to disrupt voting.
The TMC has denied the charges and said the reports were overblown.
"Other than a few violent incidents, the voting is being conducted peacefully," Parth Chatterjee of the Trinamool Congress said.
Analysts are calling this the most violent election in the state in recent years.
"We have received information about five deaths during violence from parts of the state," West Bengal police chief Surajit Kar Purakayastha told BBC Hindi.
"We are further investigating the deaths."
Local media has reported incidents of a bomb blast outside a voting centre, firing of gun shots and violent clashes between opposing groups outside polling booths.
More than 12 people are believed to have been injured in these attacks.