Ek Do Teen: The unpopular Bollywood remake that crossed 18m views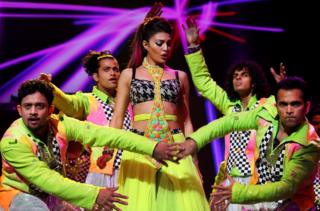 A remake of an iconic 1980s Bollywood song has been viewed more than 18 million times on YouTube in two days but has generated largely bad reviews.
The song, Ek Do Teen which was released in 1988, immediately became a blockbuster hit that catapulted its heroine, Madhuri Dixit, to stardom.
The remake, which was released on YouTube on 19 March, has not gone down well with fans of the original version.
Many took to Twitter with the hashtag #ekdoteen to express their displeasure.
Some fans even said that the remake objectified women unlike the "quirky" original.
Ek Do Teen translates from the Hindi into "one, two, three" and the song lyrics describe a woman counting down the seconds as she waits to see her lover.
The upbeat song features in any Bollywood retro playlist worth its salt, and continues to be extremely popular, not just in India but in other countries in the region.
For many the remix was a direct affront to their childhood memories.
Some others saw it as a contest between Ms Dixit, one of Bollywood's biggest female stars who is known for her dance moves, and Ms Fernandez, a relative newcomer.
Even the director of the 1988 film that featured the song is reported to have said he is unhappy with the remake and is planning to "take action" against the filmmakers.