India PM Narendra Modi condemns statue vandalism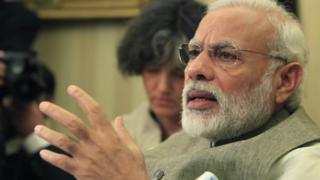 Indian PM Narendra Modi has asked officials to take stern action against people who have been vandalising statues of prominent personalities.
His statement comes a day after some workers from his Bharatiya Janata Party (BJP) pulled down a statue of Vladimir Lenin in Tripura state.
Statues of a Hindu nationalist in West Bengal state and a social reformer in Tamil Nadu state were also vandalised.
The incidents have caused tensions to rise in parts of the country.
Mr Modi said he strongly disapproved of such incidents.
"Persons indulging in such acts must be sternly dealt with and booked under relevant provisions of the law," the prime minister's office said in a statement.
The Lenin statue was pulled down in Belonia town on Monday after the BJP swept elections in the north-eastern state, dislodging the Communist Party of India (Marxist) who had ruled there for 25 years.
The statue of Periyar, who was a rationalist and social activist, was vandalised after BJP politician H Raja said on Facebook that his statues would be "removed" from the southern state of Tamil Nadu.
Regional parties in the state have protested against the incident, prompting BJP president Amit Shah to condemn it.
And in West Bengal state, police have arrested seven people in connection with the defacing of Mukherjee's statue in Kolkata (formerly Calcutta).