India breastfeeding magazine cover ignites debate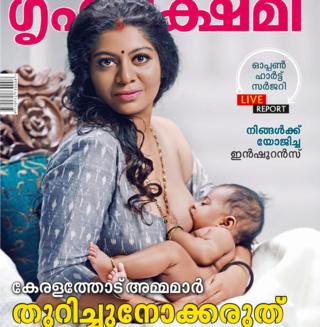 An Indian magazine that published a picture of a model breastfeeding a baby as its cover photo has sharply divided opinion on social media.
The cover of Grihalakshmi, which is published in Kerala state, depicts model Gilu Joseph staring straight into the camera with a baby at her chest.
The text above reads "Moms tell Kerala - don't stare, we want to breastfeed".
This is thought to be the first time an Indian magazine has published a cover image of a woman breastfeeding.
But the fact that the model is not herself a mother has caused some discomfort and generated debate.
Grihalakshmi's editor said the magazine wanted to raise awareness about the need for mothers to be able to breastfeed in public.
"A month ago, a man shared a picture of his wife breastfeeding on Facebook to start a conversation about letting mothers feed in public spaces. But the result was that the woman was subjected to cyber-bullying from both men and women," Moncy Joseph told the BBC's Ashraf Padanna
"That is why we decided to dedicate our latest issue to breastfeeding mothers."
Many women in India who wear the traditional sari breastfeed in public, using the garment as a means of covering themselves. But this option is not available to women who do not want to wear the sari.
Many people posted on social media in support of both the magazine and the model.
But the campaign has also drawn criticism for featuring a model rather than an actual breastfeeding mother.
"That point at which you decided to push a real mother actually breastfeeding her child into the inner pages and portray a model holding a baby to her bare breast on your cover is where you delved into cheap sensationalism and exploitation," wrote blogger Anjana Nayar in a blog post.
But Gilu Joseph has defended her decision to pose for the magazine cover.
"I was expecting a lot of criticism, but I decided to take it all on with pleasure for the sake of all mothers who want to breastfeed with pride and a sense of freedom," she told the BBC.
One magazine quoted her as saying "which god will be angry if you feed your child?"
Celebrated Kerala writer Paul Zachariah told the BBC he thought the cover was a "path-breaking step".
"It may not lead to a revolution in breastfeeding in public, but it is an important step. I only hope this doesn't end up as usual in an apology from the editor."
You might also like:
The World Health Organisation recommends exclusively breastfeeding babies for the first six months of their life.
Breastfeeding in public is a contentious issue around the world.
In Scotland, a survey showed that more than a quarter of new mothers said that they were made to feel "uncomfortable" about breastfeeding in public.
Last year a study showed that rates of breastfeeding in the UK were the lowest in the world.
Only one in 200 women - or 0.5% - were still doing any degree of breastfeeding after a year, compared with 23% in Germany, 27% in the US, 56% in Brazil and 99% in Senegal.