Jayalalitha: Tamil Nadu party to change statue of ex-leader after backlash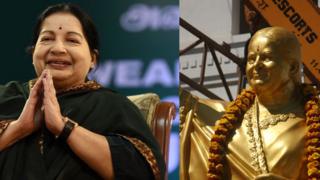 The ruling party in India's Tamil Nadu state will change a lifesize statue of former chief minister Jayalalitha after complaints it looks nothing like her.
The bronze statue was unveiled amid great fanfare on Saturday to mark the 70th anniversary of the birth of the popular leader, who died in 2016.
However, people reacted with outrage as pictures of the statue began going viral on social media.
One party official told BBC Hindi the statue "shocked" him when he saw it.
"It was just not like our Amma, that was not her face at all," the official told BBC Hindi's Imran Qureshi on condition of anonymity, using the Tamil name for mother that was popularly used to refer to Jayalalitha.
The AIADMK has not revealed how much money it spent on the statue.
The fact that Jayalalitha was the founder and leader of the political party that commissioned the statue has led to even more ridicule and criticism.
A minister in the Tamil Nadu government, K Pandiarajan, told BBC Hindi that the "necessary changes in the facial features of the statue will be made and the statue will be re-installed".
Adding to the anger is the fact that the sculptor who created the statue is not from Tamil Nadu, but the neighbouring state of Andhra Pradesh.
Another party official who also spoke on condition of anonymity said: "We need not have gone outside the state to get this sculpture done. We have eight centres in Tamil Nadu where people from all parts of India come to get statues made," he told BBC Hindi.
"It is obvious that the entire statue will have to be remade and put up. It is made of bronze. It will not be possible to change the face alone."