Justin Trudeau rescinds India dinner invite to Sikh separatist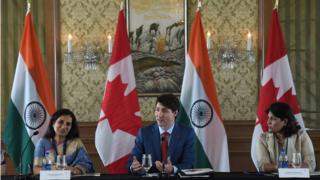 Canada has withdrawn an invitation to an alleged Sikh extremist to attend an official dinner with its Prime Minister Justin Trudeau while he is in Delhi.
Mr Trudeau, on a first state visit to India, said Jaspal Atwal should never have been invited to Thursday's meal.
Jaspal Atwal, a Canadian citizen of Indian origin, was convicted and later acquitted of trying to assassinate an Indian minister in 1986.
He is accused of having been a member of a now banned Sikh extremist group.
Earlier this week he was photographed alongside Mr Trudeau's wife, Sophie, and one of his cabinet ministers at an event in Mumbai.
Mr Trudeau, who meets his Indian counterpart Narendra Modi on Friday, has been fending off criticism that his government is soft on Sikh extremists during his week-long trip.
"Obviously we take this situation extremely seriously," Mr Trudeau told reporters in Delhi. "As soon as we found out we rescinded the invitation immediately."
He said the MP from his party "took full responsibility" for the dinner invitation.
Mr Atwal, now a businessman in the Canadian city of Surrey, travelled to India separately and was not part of the Canadian delegation. Indian officials say they are investigating how he was granted a visa.
Jaspal Atwal told Canada's Postmedia network that he did not plan to attend Thursday's dinner, which was being hosted by Canada's high commissioner, as he is in Mumbai on business.
He was convicted along with three others of shooting Indian minister Malkiat Singh Sidhu while he was in Vancouver on a personal visit. All four convictions were later overturned on appeal.
The minister was hit twice but survived the attack. He was assassinated in India in 1991.
Mr Atwal was a member of the International Sikh Youth Federation (ISYF) at the time of the attack, CBC News reports. It was later banned in a number of countries, including Canada and India.
News of the dinner invitation comes amid speculation that the Canadian prime minister has received a lukewarm reception in India, a charge both countries have denied.
Canada has a large Sikh community and Mr Trudeau's cabinet includes four Sikh-Canadians.
His administration has faced accusations that it is too soft on separatists who support a Sikh independence movement, also called the "Khalistan movement".
It seeks to create an independent homeland for the community in the Sikh-dominated northern state of Punjab.
Last April, Punjab's top elected official, Amarinder Singh, refused to meet Canadian Defence Minister Harjit Sajjan, alleging he was a "Khalistani sympathiser".
But Mr Trudeau met Mr Singh this week who later told the media they had discussed the "Khalistan issue". He added that Mr Trudeau had assured him that Canada "does not support" separatist movements anywhere in the world.