India father held for brutally beating son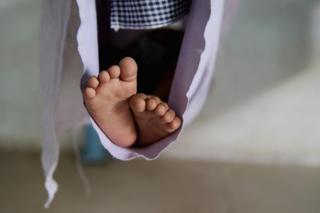 A man has been arrested in the northern Indian state of Rajasthan after a viral video showed him brutally beating his five year-old son.
The one-minute video also shows him kicking his three-year-old daughter as the siblings cry and beg for help.
Police told the BBC that the man and his brother, who filmed the video, had been charged with culpable homicide.
The men told the police that they had beaten the children to punish them for dirtying their clothes.
BBC Hindi's Narayan Bareth said the video shows the boy hanging from a rope tied around his chest.
Abusing and hitting children is a crime in many parts of the world and corporal punishment in schools is banned in India too. But it's still an accepted way of disciplining children within homes.
But the brutality shown in this video has shocked many.
Police officer Mahesh Meena said that "people have been calling me to express their anger over the video".
The State Commission for Child Rights has appealed to the police to take strict action against the men.
"We will ensure welfare of the children," the commission's chairperson, Manan Chatuverdi, said.
"If we find that the family is not able to take care of the children, we will take them to a government house," she added.