'Tardy' police attacked in India after bus crash which killed 36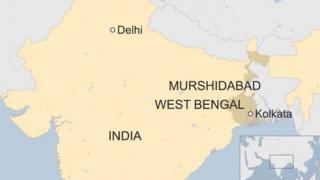 Angry residents attacked police vans and officials whom they accused of arriving late to the scene of an accident which killed 36 people in India's eastern state of West Bengal.
Bystanders rushed to the rescue when a bus crashed through a bridge and fell into a river in Murshidabad district.
A huge crowd which had gathered around the scene started to throw stones at the police when they arrived.
The police retaliated by using tear gas to disperse the mob.
Two officials from the fire brigade and one policeman were reportedly injured in the clashes.
The crowd is said to have overturned police vans and even set fire to two of them.
Locals told BBC Hindi the bus had had more than 50 passengers on board.
"Rescuers have retrieved 36 bodies so far," state transport minister Subhendu Adhikari told AFP news agency.
Nine passengers were taken to hospital, he said. Reports say a number of people are still missing.
The state has ordered an inquiry into the incident.