India child, five, kidnapped from school bus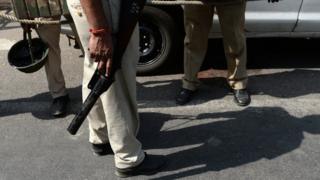 A five-year-old school pupil has been kidnapped in India's capital Delhi by two individuals who intercepted a school bus and fatally shot the driver.
About 20 children were on board when the kidnappers, who were on a motorcycle, stopped the bus in east Delhi on Thursday morning.
Police confirmed the incident, adding that an investigation has begun.
Officials have been reluctant to divulge further details as they believe the child's life is still under threat.
A police officer told The Indian Express newspaper that the child's family has not yet received a ransom call.
"We are probing the role of insiders as the kidnappers were aware about the child's routine," he said.
Indian media say the child is a pupil at a private school in the area.