Modi magic and other takeaways from India's bellwether Gujarat elections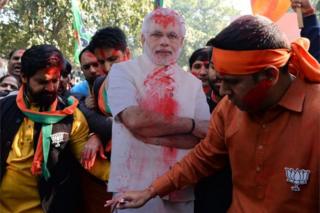 Indian Prime Minister Narendra Modi's ruling Bharatiya Janata Party (BJP) has secured a sixth win in a row in his native state of Gujarat.
Here are some takeaways from what is a substantially reduced victory:
Modi magic still works
A few weeks ago, it was looking like a miracle could happen. A respected opinion poll showed the gap between the BJP and the Congress party narrowing, so much so that the opposition party threatened to upset the BJP's applecart.
A 24-year-old political newbie tied up with the Congress to take on Mr Modi and was drawing huge crowds. Hardik Patel was demanding affirmative action for his farming community, who make up 14% of Gujarat's 66 million people, and have faithfully voted for the BJP in the past. Congress leader, Rahul Gandhi, had himself come out of his cocoon, and spiritedly picked up the gauntlet against Mr Modi.
In response, Mr Modi upped the ante with his take-no-prisoners style of campaigning.
He combined talk of economic development with strident Hindu nationalism. He evoked Gujarati pride and tapped into a curious politics of grievance and victimhood, pointing to how the opposition parties abused him. He even sparked a controversy when he made what critics said was an outlandish and coarse allegation about the Congress party colluding with Pakistan to influence the election.
That the indefatigable Mr Modi addressed more than 40 public meetings in a state election just proved how seriously he took the polls and anticipated the risks. Still, as BJP spokesperson Nalin Kohli recalled on Monday, "we are consistently winning. People are not rejecting Mr Modi."
The final numbers show that the BJP was fragile, and this was an election "where the party just about made it", says Prashant Jha, author of a book on BJP. But, in the end, "Monday's verdict is a verdict, yet again, for Narendra Modi".
Green shoots of a Congress revival
Rahul Gandhi, many believe, missed a really good chance of winning this election.
Two lacklustre chief ministers had followed Mr Modi in Gujarat. There was the inevitable anti-incumbency, rural discontent, a veritable revolt by the Patels, and the crushing effects of a controversial currency ban and a shabbily implemented Goods and Services Tax which eliminated jobs, squeezed incomes and made doing business difficult.
In hindsight, BJP was clearly vulnerable.
Mr Gandhi shrugged off his characteristic indecisiveness and came to the party late. He stitched up some clever alliances, including one with Mr Patel. On the stump, he touched a chord with voters, energised his base and gave a fright to Mr Modi's party, which had not taken him seriously.
His party was without a chief ministerial candidate and hobbled by a weak grassroots organisation. Yet, the Congress put up its best performance in 32 years in what is a traditionally anti-Congress state, boosting its vote by a healthy 6% over 2012.
Political analyst Neerja Chowdhury says the "worm has turned" for a party which had recorded its worst performance in the 2014 general elections. But the Congress has a long way to go before it begins winning again.
There are four key states which will go to the polls next year. The BJP will be battling anti-incumbency sentiments in three of them - Rajasthan, Chhattisgarh and Madhya Pradesh. Mr Gandhi has to promote local leaders, build alliances, and develop grassroots organisations to deny the BJP another shot at power in these states.
"The tide will turn for us again," says party leader Shashi Tharoor. But it will be a long and arduous battle.
Hindu revivalism is here to stay
Rahul Gandhi visited more than 25 Hindu temples in Gujarat during the campaign to woo the Hindu vote. Many felt it was a negation of his party's much vaunted secular credentials.
As Hartosh Singh Bal points out in the New York Times, Mr Gandhi regularly criticises Mr Modi's economic policies on Twitter, but had referred to India's Muslims just once in more than 3,000 tweets over two years.
In Gujarat this time, Muslims, who comprise 9% of the population, were reduced to a near-invisible minority with the main parties mostly ignoring them.
Mr Gandhi has not taken an unequivocal stand against Hindu revivalism. "If he continues like this," Mr Bal told The Wire news site, "the RSS will be winning. It puts a Hindu face on our politics." Or, will Mr Gandhi figure out a way to counter Hindu nationalism without alienating the Hindu voter?
Return to economic populism?
Many believe that after the considerably reduced majority in a business friendly state like Gujarat, the BJP will go slow on disruptive "reforms" like the hasty currency ban introduced in November 2016 and the shabbily implemented Goods and Services Tax (GST), designed to unify the country into a single market.
For the rest of the term, they say, India will not see any major economic reform. Public spending is likely to increase, and the government will try to smooth the implementation of GST.
Mr Modi is also likely to play down his "reformist" credentials at a time when the economy remains in a slump, joblessness is high and a spike in oil prices could easily stoke inflation and disturb the economic fundamentals.
The battle for 2019 could be exciting
For the BJP Monday's verdict is a warning.
Gujarat is the party's pocket borough. A sixth BJP win looks impressive on paper but much less satisfying because the party had set out to win 150 seats in the first place.
In the end, winning two of two states is not a setback for the BJP, and losing both is not a comeback for the Congress.
Many had written off the Congress, saying it would not be able to put up a fight in 2019. But the party's performance in Gujarat and a reinvigorated Mr Gandhi offer some hope to a beleaguered and hopelessly outnumbered opposition. The BJP, along with its allies, now runs governments in 19 states.
The year ahead will see a number of bipolar elections in bellwether states between the Congress and the BJP. If Mr Gandhi and his party can clean up their act, these elections could be keenly contested. A few months ago, most Indians believed Mr Modi would easily sweep the general elections in 2019.
Suddenly, says Shekhar Gupta, editor of The Print news site, "there's an opening up in the national politics in India". Which should mean exciting times ahead.