India 'religious murder' case: Donations for suspect blocked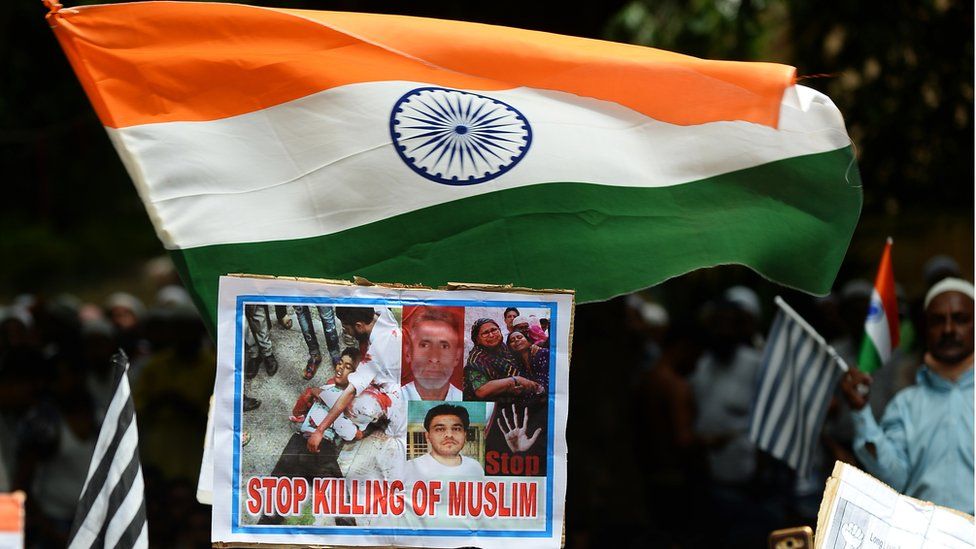 Police have frozen the bank account of the wife of a man arrested for an alleged religious killing in the western Indian state of Rajasthan.
Police said around 270,000 rupees [$4,200; £3,100] had been donated to the account before they froze it.
Two people have been arrested for running a campaign to seek donations for Shambu Lal's family.
Mr Lal, a Hindu, is accused of hacking a Muslim man to death before posting a video of the attack on social media.
Senior police officer Anand Srivastava told BBC Hindi that the account had been frozen "in connection with our investigation into the murder".
Mr Srivastava said that internet services remained suspended in the town of Rajsamand and the neighbouring city of Udaipur to stop rumours from spreading.
He added that Updesh Raana, one of the two men arrested for seeking donations for Mr Lal and his family, had posted "inflammatory messages" against Muslims on social media.
The man who died was Mohammad Afrajul, a Muslim migrant labourer who had been living in Rajasthan for more than a decade.
In a second video, Mr Lal is apparently seen trying to justify the incident, saying he acted to "protect the honour of Hindus against Muslims".
Mr Lal also warns Muslims, saying: "This is what will happen to you if you do 'love jihad' in our country."
The term "love jihad" has been popularised by radical Hindu fringe groups, who accuse Muslim men of participating in a conspiracy to turn Hindu women from their religion by seducing them.